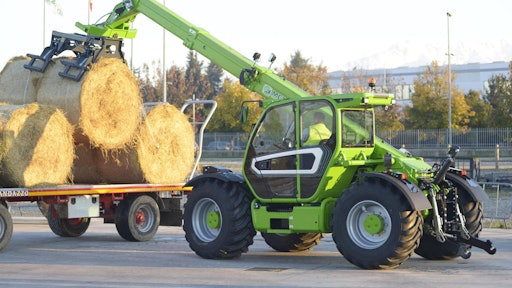 Merlo will highlight new additions to its Turbofarmer and Multifarmer product families at Agritechnica 2013. The products on show will renew and further widen its product range, strengthening Merlo's position as one of the world's leading telehandler manufacturers.
Multifarmer concept
The first Multifarmer machine was launched in the year 2000 and, ever since, it has played an important role in the Merlo product range and in the worldwide agricultural scenario, as it was the first telehandler to be equipped with a rear mechanical PTO, hydraulic lift, three-point linkage and external hydraulic system.
The above-mentioned features allowed the use of suspended agricultural implements - the same ones fitted on conventional tractors.
Thanks to Merlo's experience with Multifarmer products, it has now developed a brand new model called Multifarmer 40.9.
It follows the same concept as the original Multifarmer, based on versatility to suit a wide variety of heavy-duty tasks from material handling to field operations and transport activities. It will be manufactured according to a new approach based on modularity to ensure high quality and production flexibility – Merlo's next major manufacturing evolution.
Multifarmer 40.9 will be the Merlo flagship at Agritechinca. As a telehandler it offers a 4-ton boom lifting capacity and 9 m boom extension suitable for any farm activity. It is powered by a 156 hp Stage IIIB/Tier 4 Interim four-cylinder engine and will be equipped with a 7-ton rear hydraulic lift, electronically controlled with lower sensing draft control. It also includes three-point linkage and 135 hp rear PTO.
Four electronically-managed external control valves are features of the new telehandler, as well. Inside the cab, the main controls are located on a specific armrest to ensure first-class operating comfort. In addition to the above mentioned specifications, Multifarmer 40.9 can be ordered with a sliding hitch or D3, 20-ton hitch and a hydraulic or pneumatic trailer braking system for maximum performance.