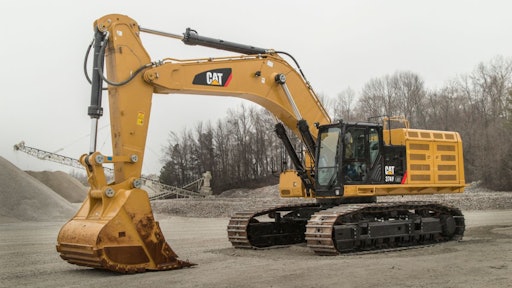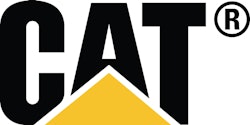 The new Cat 390F and 374F excavators use fuel-efficient Cat ACERT engines—the C15 in the 374F and C18 in the 390F—to meet U.S. EPA Tier 4 Final emissions regulations. The new models build on the durability, reliability, and performance of the D Series, and they reflect Cat's F Series design criteria, which include low fluid consumption for minimal operating costs, optimum operator comfort, easy serviceability, and class-leading productivity. In fact, the 390F burns 7% less fuel yet delivers more productivity than the 390D it replaces. The 374F burns 13 percent less fuel and has the same productivity as the 374D it replaces.
With respective net power ratings of 472 hp and 524 hp, the C15 and C18 engines use a combination of proven emissions control technologies, including electronic management of fuel injection/intake air systems and Caterpillar exhaust aftertreatment systems. Emissions control is transparent to the operator and does not affect machine performance.
Fuel-saving features include two power modes—standard or economy—to allow the operator to select an engine operating speed to match the application. In addition, an on-demand power system adjusts engine speed to match the machine's operating load, and an engine idle shutdown system stops the engine after it idles a pre-set interval. These systems not only save fuel and reduce emissions, but they also significantly extend service intervals.
The 374F and 390F hydraulic systems are designed with major components in close proximity—an arrangement that allows shorter connecting tubes and hoses to reduce frictional losses and pressure reductions, resulting in reduced loading on the system for added fuel savings. New for the F Series models is the Cat Adaptive Control System (ACS) valve, which electronically manages flows and restrictions to exactly match hydraulic response to joystick movement. This fuel-saving feature smoothes hydraulic functions and adds to overall hydraulic efficiency.
The new models can be equipped with auxiliary hydraulic circuits, allowing the use of powered work tools that can be easily attached with a hydraulically activated coupler. Both models are available with a range of booms and sticks fabricated with premium steel plate using high-strength castings and forgings in high-stress areas. All are stress relieved for durability and inspected ultrasonically for quality. Heavy-duty reach and general purpose booms are designed for general excavating and loading, and a mass excavation boom delivers high production in large-scale earthmoving and heavy material applications. A choice of sticks is available to match booms for meeting required digging depths, reaches, and breakout forces.
Structural durability is ensured by the proven heavy-duty construction of the mainframes and undercarriage. The upper frame incorporates special mountings to support the heavy-duty cab; the lower frame is heavily reinforced for long-term durability. A long variable-gauge undercarriage—featuring massive track roller frames and high-tensile-strength-steel components—provides a wide, stable working basis while adjusting to reduce shipping width. A new counterweight removal device is available to allow for easier and more efficient transport.
Increased glass area in the F Series cab enhances visibility for the operator. Special sealing and insulation keep the operator's environment clean, comfortable , and quiet with operator sound levels reduced by a significant 3 dB(A). The new monitor offers a larger screen with higher resolution with more intuitive navigation. The monitor is programmable in 42 languages, and it presents detailed machine operating data as well as crisp images from the standard rearview camera. A climate control system includes air conditioning and filtered air ventilation, and seat options include air suspension, heated, and cooled versions.
Where the F Series machines have been greatly improved is serviceability. Routine maintenance points like grease fittings, fuel and oil filters, and fluid taps are conveniently grouped and safely reached behind wide service doors from wide, slip-resistant catwalks. In addition, a fuel tank drain cock simplifies evacuating water and sediment to protect the fuel system, and an integrated fuel level indicator reduces the prospect of overfilling.
Cat Connect makes smart use of technology and services to help improve jobsite efficiency. LINK technologies like the optional Product Link system helps fleet owners manage equipment productivity and lower owning and operating costs through the online VisionLink interface by tracking critical items such as location, hours, fuel usage, diagnostic codes, and idle time. F Series machines also offer optional technologies like Cat Grade Control Depth and Slope to help operators work more productively and accurately and upgrade to 3D capability when job requirements change.