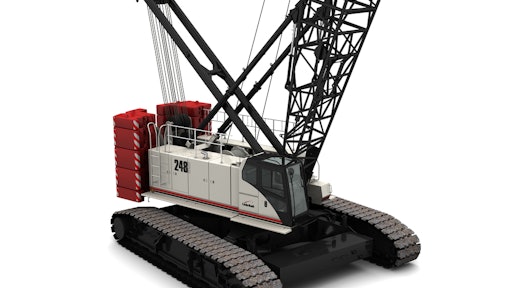 Link-Belt displayed its 200-ton (181-mt) 248 HSL lattice crawler crane at CONEXPO 2014 in Las Vegas, NV, March 4 to 8, 2014. The 248 HSL joined the 238 HSL and the 298 HSL as the strongest trio of cranes in the 150 to 250 ton market when Link-Belt introduced the 248 HSL at CraneFest in 2012.
The 248 HSL is the next generation of the highly successful 248 HYLAB 5 Series introduced over 20 years ago. It is loaded with all the features and the latest technology, including Tier 4 Final power.

"The 248 HSL is a compact and strong 200-ton machine with minimal tail swing (16 ft. 10.76 in.) that fits well into tight spaces in the city as well as around bridge overpasses on interstate construction projects," says Link-Belt's Product Manager, Lattice and Telescopic Crawler Cranes Scott Knight.
Design Inspiration
Customer input drove much of the new design for the 248 HSL. The crane comes standard with folding upper guardrails and full-length right and left catwalks with grab handles. The crane operator is assisted by an on-board high-resolution rear view camera that helps monitor jobsite conditions. An audio/visual travel alarm system informs crew members on the ground. The RCL monitoring system provides the operator all critical lift information, is extremely intuitive and allows the operator to set swing and other control parameters creating virtual walls with audio, visual alarms and function kick out.
ECO System
Greater fuel efficiency is just one of the benefits offered with the new ECO system, resulting in lowered operating cost, less engine RPM under load and fewer emissions. When activated by the operator, ECO hoist provides maximum line speed with lighter loads all with the engine under 1,000 RPM. Also, standard equipped as part of this system is operator-selectable "auto-engine shutdown" allowing for the engine to shut down after extended periods of inactivity, so long as critical operating criteria are met.  
Drum Hoist
Piston motors drive the swing and travel systems, front/rear winches and the boom hoist. Main and auxiliary drums are grooved for 26 mm rope and come standard with power up/power down with automatic brakes.
Optional "wet brake" style drums are available for free fall operation. The new foot-operated, dynamic style, swing brake controls provide manual overlap of the braking and swing applications, giving the operator greater control under a wide range of conditions.
Lower
Like its predecessor, the 248 HSL has a strong, heavy-duty lower with carbody counterweights to provide a great lifting base. Sealed rollers, idlers, and drive components, along with full contact 44 in. (111.76 cm) shoes, and a 25 in. (257 cm) clearance in its working configuration provide for trouble free operation and long undercarriage life. Carbody jacks come standard with a remote control for fast, easy assembly with increased lowboy clearance both in width and height. For even quicker mobility, the 41,400-pound (18,072 kg) side frames attach via hook and pin.  
Attachment
The 248 HSL has a main boom length of 55 to 285 ft. (16.8 to 86.9 m) ­­ and incorporates lifting sheaves in the boom base section for fast assembly and disassembly. A fixed jib ranges from 30 to 100 ft. (9.1 to 30.5 m) for a maximum tip height of 345 ft. (105.7 m). The all-new 248 HSL luffer is equipped with 100 to 160 ft. (30.48 to 48.77 m) of luffing boom and 80 to 180 ft. (24.38 to 54.86 m) of luffing jib.
Operator's Cab
The operator's cab of the 248 HSL is highly functional and comfortable. In addition to the full LED system monitor, you have adjustable armchair-mounted controls; the ergonomic design offers the operator several advantages: greater visibility, more room, six-way adjustable seat, and AM/FM digital clock radio. Whether in winter or summer-time operation, high-output air conditioning and heat is standard for the 248 HSL; as a result, the 248 HSL is a great place to work.
Transport
The modular upper counterweight removal system on the 248 HSL lowers the counterweights to the ground from the remote control station, much like Link-Belt's 218 and 238 HSL style. Because it's so easy to transport, the 248 HSL makes money every time it transports.
The hydraulic cylinders detach in one piece with the base counterweight to reduce the weight of the main transport load. The upper counterweights consist of a 20,000 lb. (9 071.8 kg) "A" counterweight and six 15,000 lb. (6,804 kg) biscuit counterweights. Main counterweight release and engage pins simplify the assembly/disassembly process. The main load with its 25 ft. (7.62 m) base section weighs less than 87,000 lbs. (39 462.5 kg).
With its design for transport, maneuverability and ability to maintain a tight footprint, the Link-Belt 248 HSL is a strong piece of Link-Belt's proven lattice crawler crane lineup.