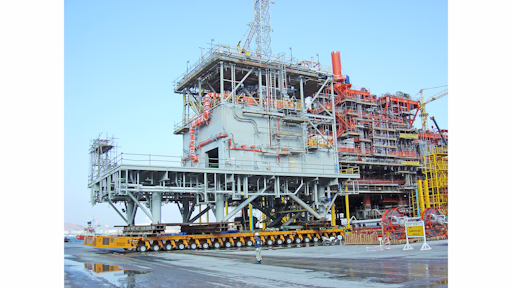 Construction time, productivity and safety are positively influenced by modular ship construction, a common finding that has been changing the ways ship construction processes have developed in the last decades. Module weights have increased steadily and the developments in vessel sizes show, that this trend is about to continue. To handle the prefabricated units for those giants, huge shipyard transporters are needed. SCHEUERLE innovated in the 1960s the self-propelled Ship Section Transporter-Technology for in plant logistics in wharfts. Now the TII Group set a new benchmark for this kind of transportation devices with the SCHEUERLE SHT 1300, the biggest single shipyard transporter ever built.
Although measuring around 30x10 meters in platform size, the SCHEUERLE SHT 1300 is amazingly maneuvrable due to its electronic multiway steering system and steering angle of 165 degrees. The hydraulically suspended pendulum axles with hydrostatic drives allow an inner turning radius of 0 degrees, literally allowing the vehicle to turn on the spot. The Ship Section Transporter has a hydrostatic drive system being driven by 12 of 40 pendulum axles. Cameras mounted around the vehicle allow a safe and comfortable operation for the driver, who is safely insulated against heat, noise and dust in the comfortable operator cabin.
"Apart from the fact, that the SCHEUERLE SHT 1300 will speed up the production processes and increase the size of modules that can be handled, it is also easy to maintain and to operate. This means comparatively low service and operator education costs," says Bernd Schwengsbier, President of TII Sales, the joint distribution company of the TII Group.
Ralf Grützmacher, Area Manager Sales Asia at TII Sales adds, "On the Hyundai Heavy Industries production site in Ulsan, like at all other shipyards, it's all about time, reliability and safety. That's why Hyundai decided to buy a further TII Group transporter. SCHEUERLE, NICOLAS and KAMAG, members of the TII Group, have vast and longtime experience in the construction of industrial lifting and transportation equipment so we can offer comprehensive solutions."
The SHT 1300 will be shipped to South Korea in two pieces that will be welded together at the shipyard in Ulsan. Shipping costs have been significantly reduced by this method, one out of many details characteristic for the pragmatic and outcome-driven approach of the TII Group.
Hyundai Heavy Industries has been a satisfied customer of the TII Group since decades. Vehicles in use at Hyundai Heavy Industries construction sites also include SCHEUERLE SPMT (Self-Propelled Modular Transporter), e.g. for transporting oil production modules.