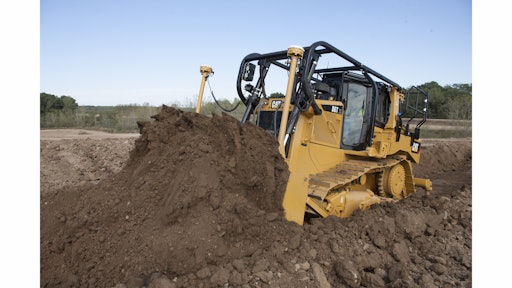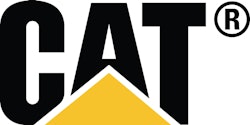 The Cat D6T Dozer delivers both the power needed for heavy dozing applications and the fine control for finish grading—all in one machine. The latest D6T model, updated to meet U.S. EPA Tier 4 Final emissions standards, retains its versatile performance and adds new features to enhance ease of operation, fuel/fluid efficiency and ease of service.
The D6T now features Stable Blade Control, which has been proven on Cat K Family tractor models. The system complements operator input by automatically making instantaneous blade adjustments, yielding a more precise finish grade with less effort from the operator. It also helps less experienced operators achieve a higher quality finish grade. New Selectable Electro-Hydraulic Maps allow the operator to set the blade response level to suit personal preferences or to tailor the machine to the type of work being done.
Enhanced Auto Shift allows the operator to select the optimum ground speed for the job. It helps save fuel by automatically choosing the most efficient gear based on load. The previous 3-speed transmission has been updated with a 6- and 9-speed format to enable the operator to optimize ground speed choices for heavy- and light-duty applications. With Enhanced Auto Shift activated, the Bi-Directional Shift system allows pre-setting forward/reverse gear ranges, saving the operator from repetitively making this selection with each directional shift.
The D6T is powered by a Cat C9.3 ACERT engine, rated at 207 net hp (154 kW). Proven Cat emissions reduction technology is designed to require no special actions from the operator and no need to stop for regeneration. Selective Catalytic Reduction (SCR) utilizes Diesel Exhaust Fluid (DEF) which can be conveniently replenished when refueling. Improved fuel economy over Tier 4 Interim models, and efficient use of DEF, means the D6T provides excellent overall fluid efficiency.
The D6T features Cat Connect LINK and GRADE technologies to help improve jobsite efficiency. Product Link helps fleet managers track location, hours, fuel consumption, idle time, events and diagnostic codes by wirelessly reporting all via the online VisionLink user interface to help fleet owners lower owning and operating costs. Cat AccuGrade is a dealer-installed machine control and guidance system that helps operators improve productivity and accuracy by as much as 50% over conventional methods.
The spacious cab, featuring a roof-mounted air conditioning unit with high cooling capacity, is a quiet 75 dB (A) and has low-effort electro-hydraulic joysticks for steering and implement control and a main-fall/cross-slope indicator that shows real-time grade percentages. Serviceability features include easy access to routine maintenance points and a ground-level service center with hour meter, battery disconnect and secondary engine shutdown. The D6T is available with a rearview camera system and redesigned guard rails and steps enhance operator and service technician safety.
The D6T is available in XL, XW and LGP configurations to equip the machine for the application. Specially equipped machines for Waste Handling and Forestry applications also are available. Blades available for the D6T include semi-universal, straight, angle and landfill. A Variable Pitch Angle Tilt (VPAT) blade offers adjustable pitch and hydraulically adjustable angle and tilt. Track shoe and rear implement options also can ideally configure a machine for the work it will do.