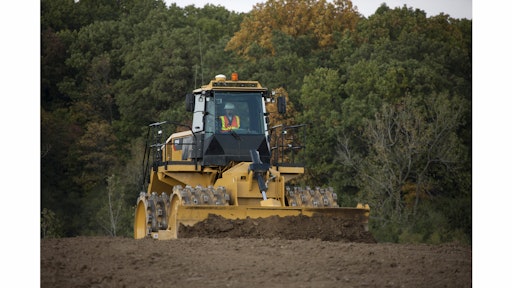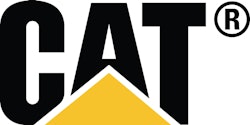 The new four-drum Cat 825K compactor incorporates Caterpillar's Machine Drive Power (MDP) system—an exclusive feature that enables operators to consistently attain compaction specifications with minimal passes, yielding low operating costs by saving time, fuel, rework expense and machine hours. Adding available technology for mapping and for storing and analyzing data creates an intelligent compaction system that provides comprehensive project management. Along with compaction intelligence, the 825K has the weight and power to take on the most difficult compacting and dozing chores, featuring massive structures for long-term durability and an operator's environment that ensures optimum comfort, safety, and productivity.
Power train and structures
With a maximum operating weight of 78,326 lbs. (35,528 kg), the 825K develops 405 net hp (302 kW) from its Cat C15 ACERT engine. The C15 ACERT is available with emissions-control technology to meet either US EPA Tier 4 Final/EU Stage IV for higher regulated countries or US EPA Tier 3/EU Stage IIIA equivalent emission standards for lesser regulated countries. An Engine-Idle-Shutdown system conserves fuel by stopping the engine after a pre-set interval of idling, and a Delayed Engine Shutdown feature protects the engine by stabilizing operating temperatures before shutdown.
The 825K's drivetrain uses a 3F/3R Cat powershift transmission featuring Single Clutch Speed Shifting, which assists in maintaining torque flow through the transmission during gear changes, resulting in smoother shifts and minimal power interruption—especially beneficial on uphill grades. An integral lock-up torque converter provides direct-drive efficiency, speed, and fuel savings, while also significantly reducing drive-train heat. Additionally, an auto-shift system allows the machine to automatically upshift or downshift based on machine speed and torque, optimizing performance and thus saving fuel. This feature can be easily enabled or disabled on the soft keypad.
The design of 825K's full-box-section rear frame ensures exceptional resistance to twisting forces and shock loads and is fabricated to maintain its integrity through multiple machine life cycles. Adding further to structural integrity are heavy-duty steering cylinder mounts and a specially engineered axle-mounting system, both designed to dissipate operating stress.
Compaction with confidence
Caterpillar's MDP system measures the soil's load-bearing strength to assess compaction. The system—which works efficiently with single- or four-drum configurations, smooth or padfoot—senses the rolling resistance of the material being compacted (the measure of its load-bearing strength) to determine the degree of compaction.
Unlike accelerometer-based compaction measurement systems, the MDP system correlates well with portable measurement devices, works in a wider range of applications and also measures closer to the depth of the lift with less variability, both in granular and cohesive materials. Operators can quickly establish the MDP target value that matches the compaction specification, and then can rely on the intuitive MDP monitor in the cab to assess progress of the compaction process.
MDP measurement technology is the foundation component of the comprehensive Cat Compaction Control system, which is scalable to meet a wide range of needs and applications. Mapping capability, with two levels of accuracy, enables the operator to easily monitor compaction progress and ensures that compaction is of uniformity quality.
Compaction data can be downloaded or wirelessly transmitted to the online VisionLink user interface for analysis and reporting, using a computer or mobile device. The overall system provides a means to attain optimum productivity, job quality and profitability.
Operator environment, safety, service
Operator productivity is assured by the 825K's spacious, comfortable cab which is equipped with automatic temperature control, pressurized with filtered air to maintain a clean environment, fitted with an air-suspension seat, and mounted to the frame with a system designed to reduce vibration and sound within the cabin.
The Cat STIC (Steering and Transmission Integrated Control) system places complete control of the 825K in the operator's left hand, and the electro-hydraulic implement-control joystick provides precise, proportional response. The implement-control system also features electronically controlled cylinder stops and soft-detents. For added convenience and safety, the left pedal in the cab serves as an engine decelerator, transmission neutralizer and brake.
Operators can safely and comfortably enter and exit the cab via stairways (left and right) with reduced angles and standard lighting. The fold-up STIC console allows easy access to the seat, while handrails and non-slip walking surfaces help avoid missteps. The 825K operator's job-site awareness is enhanced with an available rear-vision camera or the Cat DETECT system, which monitors the work area and reports potential hazards in the machine's path. Standard cab-mounted LED warning strobes keep nearby workers informed of the 825K's presence.
The 825K's design also facilitates routine maintenance. Service points are accessible at ground level or from wide platforms, swing-out doors give ample space to work, ecology drains are easy to use and help prevent spills, sight gauges allow quick assessment of fluid level and quality, and swing-out oil coolers are simple to clean. A ground-level service center has an electrical disconnect, emergency shutdown switch and stairway light switch.