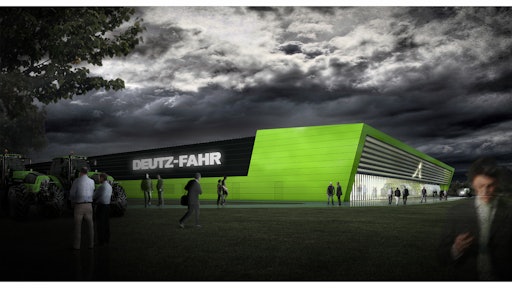 The initial foundations of the DEUTZ-FAHR LAND project were laid on Tuesday, October 14 at Lauingen, Bavaria. This marks the official start of construction on this new industrial area which is entirely dedicated to the DEUTZ-FAHR world, announced at the last Agritechnica trade fair.
In order for DEUTZ-FAHR LAND to be built, a total area of 125,000 m2 was acquired adjacent to the current DEUTZ-FAHR facility. The new production plant will be an L-shaped construction with 40,000 m2 of covered floor space, oriented towards higher technological standards in terms of painting systems and hydraulic, electrical and electronic testing.
This will take the Lauingen production site's capacity to 8,000 tractors/year on one shift. At the end of the construction work, expected within 2016, the Lauingen production site will occupy a total area of 340,000 m2 with a 138,000 m2 of covered floor space.
The total investment, which comes to €75 million, calls for the creation of specific solutions for testing and training activities, as well as a reception and museum area in order to offer a 100% DEUTZ-FAHR experience to customers and the distribution network.
On hand for the ceremony were Lodovico Bussolati, CEO of SAME DEUTZ-FAHR, Rainer Morgenstern, SAME DEUTZ-FAHR Germany CEO and Commercial Executive Director Europe, the Lauingen and Dillingen district authorities, Aldo and Francesco Carozza, SAME DEUTZ-FAHR vice-chairmen who symbolically launched the works from aboard two DEUTZ-FAHR 6 Series tractors fitted with front loaders.
"The launch of construction work on the new industrial area," says Bussolati "represents a decisive milestone in the growth of the DEUTZ-FAHR brand and accompanies the completion and progress of the high power product range thanks to the new range of tractors up to 440 hp. For these two important factors, the next two years will be fundamental in the history of this brand."