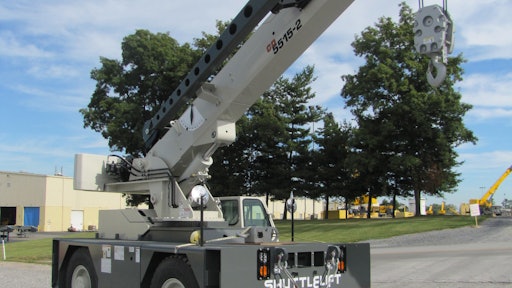 The rental market is the big focus for the aptly named The Rental Show, hosted annually by the American Rental Association. The 2015 expo will take place in New Orleans, February 22 to 25, at the Ernest N. Morial Convention Center.
Manitowoc will feature one of its best cranes for the rental market at booth #9655, the Shuttlelift Carrydeck CD5515-2. This 15 USt carrydeck crane is ideal for both inside and outside projects, is offered in either a dual-fuel or diesel engine, and has a compact footprint, long reach and hefty capacity, all which make it ideal for rental work.
Often, the CD5515-2 is found working in industrial plants, such as petroleum refineries and factories, but the agile crane has become a mainstay for rental companies serving all types of industries due to its compact footprint and standard 41 ft. boom. An optional 50-foot, full-power boom is available for the diesel model. A 15-foot boom extension, available on both the dual-fuel and diesel models, and a 10 USt deck carrying capacity make it especially versatile.
Mike Heinrich, Director of Sales for Industrial Cranes and National Accounts at Manitowoc, says the CD5515-2 hits the "sweet spot" for rental companies.
"Rental outlets are really finding the CD5515-2 to be a dynamic tool in their fleets," he says. "Customers are driving demand for rental cranes in the 9 USt – 25 USt range. This carrydeck crane falls squarely in the middle."
Representatives from Manitowoc Finance will also be on hand at the event to provide financial expertise and to answer questions from customers. The group will be offering show specials for potential buyers, too.
Visitors to the Manitowoc booth will also be able to view a special video that features the new National Crane NBT15 in action. The 15 USt boom truck features a 60-foot, three-section boom, giving it some of the best reach and capacity measurements in its class. Rental customers will find its roadability and remote control system especially handy for jobs that must be completed quickly.
"The Rental Show is a great chance for us to be close to our customers and really hear first-hand what their needs are for the rental market," Heinrich says.