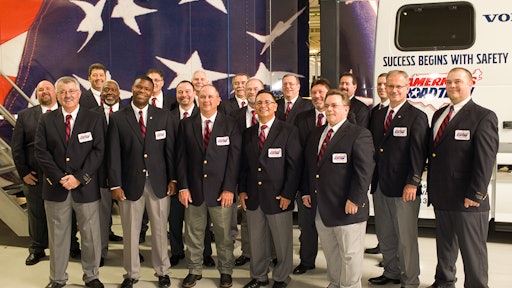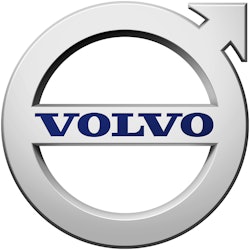 Volvo Trucks has dedicated a 2015 Volvo VNL 780 model equipped with advanced safety features and recognized the 2015-2016 America's Road Team, the trucking industry's premier safety outreach program. The ceremony took place at Volvo's New River Valley (NRV) assembly plant in Dublin, VA, where all Volvo truck models for North America are assembled.
Magnus Koeck, Volvo Trucks Vice President of Marketing and Brand Management, officially presented the new VNL model's keys to Pat Thomas, American Trucking Associations (ATA) First Vice Chairman, who accepted the truck as the newly selected America's Road Team Captains looked on. Also participating in the ceremony were Susan Alt, Volvo Group Senior Vice President of Public Affairs, and Franky Marchand, Vice President and General Manager of the NRV plant.
"Volvo Trucks is proud to play a role in the exceptional outreach work done by the America's Road Team," Koeck said. "It is our hope that this new Volvo VNL 780 model will enable the captains to succeed in their mission to raise awareness of highway safety and emphasize the essentiality of our industry."
The America's Road Team program, sponsored by Volvo Trucks, is a national public outreach effort led by expert professional truck drivers who have logged millions of accident-free miles. The 2015-2016 America's Road Team Captains will travel the country in the new VNL model to help spread the word about how the trucking industry delivers America's freight safely, securely and on time. The ATA created the America's Road Team in 1986.
"We're thrilled that once again, Interstate One, our mobile classroom, will be pulled by a beautiful Volvo VNL 780 model," said ATA Chairman Duane Long, Chairman of Longistics. "Volvo's sponsorship of America's Road Team has made it possible for these consummate professionals to take the message of safety to the motoring public, our public officials and the media, and we're honored that they are continuing their support."
The 2015-2016 America's Road Team Captains are:
Henry Bruster, UPS Freight, Woodville, MS
Ricardo Buitrago, Con-way Freight, Kissimmee, FL
Charles Demchock II, Walmart Transportation, Cocoa, FL
Eric Flick, FedEx Freight, Dayton, NV
David Green, Werner Enterprises, Hot Springs, AR
Neil Kirk, Penske Logistics, Middletown, NY
Randall Luschen, Weinrich Truck Line Inc., Merrill, IA
John McKown, UPS Freight, East Berlin, PA
Chad Miller, ABF Freight System Inc., Crown Point, IN
Bill Minor, Con-way Freight, West Milwaukee, WI
Eric Ramsdell, Walmart Transportation, Wittmann, AZ
Paul Savill, UPS Freight, Hamilton, OH
Russell Simpson, Holland Inc., South Vienna, OH
Danny Smith, Big G Express Inc., Shelbyville, TN
Tim Vogt, Con-way Freight, Loganville, GA
Kirk Weis, ABF Freight System Inc., Rio Rancho, NM
William West, ABF Freight System Inc., Roopville, GA
Derrick Whittle, Cargo Transporters Inc., Fieldale, VA
Scott Woodrome, FedEx Freight, Middletown, OH
After the ceremony, the new captains spent time familiarizing themselves with their new VNL 780 model and several of its advanced safety technologies, including Volvo Enhanced Stability Technology (VEST), Volvo Enhanced Cruise (VEC) with Active Braking and Volvo's Lane Departure Warning system. The new tractor is powered by a Volvo D13 engine and is equipped with Volvo's I-Shift automated manual transmission.
The new Volvo VNL 780 model will be used by the America's Road Team Captains to haul the ATA's Interstate One mobile classroom. The 53-foot show trailer, which is equipped with a conference room, seven presentation screens and educational displays, enables the captains to deliver interactive trucking demonstrations on safety and the impact trucking has on everyday life.