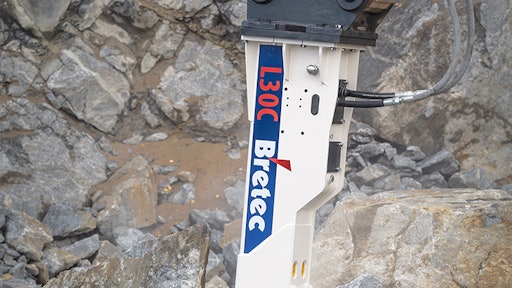 Sandvik Construction will be taking the opportunity of AGG1 to launch the Dino DC400Ri surface drill, while at the same time displaying its QS331 mobile cone crusher, Bretec breakers and tooling offering.
The Dino DC400Ri is a hydraulic, self-propelled, self-contained, crawler based surface drilling unit with full radio remote control operation for 51 to 76 mm hole sizes. It offers top drilling performance with a new RD414 rock drill, a robust boom that has the largest coverage area of its size, a patented collaring guide and an economical Tier 4 Final engine. Due to its versatility the Dino DC400Ri is the perfect machine for drilling and blasting contractors, but suitable also for quarries and the municipal sector. Its typical applications consist of road construction, demolition works, secondary breaking, foundation drilling and trenching.
Also being showcased is the QS331 mobile cone crusher. Sandvik's "S" type gyratory cone is able to accept a feed size up to 90% larger than current standard cones, which allows maximum productivity from your primary crusher, or even enables the "S" cone to be operated as a primary crusher on gravel applications. The QS331 mobile cone crusher weighs 36 tons and it incorporates the Sandvik CS430 cone crusher.
Sandvik Construction will also display its mid-segment hydraulic breaker brand, Bretec. The Bretec breaker product range includes 10 models that are suitable for carriers in the 1.2 to 40 tons operating weight class.
Sandvik's tools offering will also be on display, including the RH460 down-the-hole hammer, which has been developed to give customers higher levels of productivity and reliability, while simultaneously delivering lower operating costs. The RH460 is available in 4 in., 5 in. and 6 in., with all versions being designed to utilize bits with generic shank types
AGG1 will take place at the Baltimore Convention Center, Baltimore, MD on March 17 to 19, and Sandvik hopes that visitors will take the opportunity to acquaint themselves with the products on display and meet the key people within the Sandvik Construction organization.