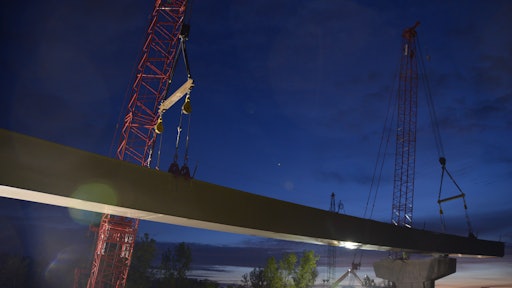 A quartet of Manitowoc 2250 crawler cranes took center stage in the assembly of several new overpass bridges as part of a $61 million highway project in Wisconsin. The work also included the expansion of highway US 41 traffic lanes, the reconstruction of several of its interchanges and the addition of 40 roundabouts.
Dawes Rigging & Crane Rental, of Milwaukee, WI, handled the lifting work, choosing the fleet of Manitowoc 2250 crawler cranes for their reach and capacities. Scott Jerome, Senior Branch Manager at Dawes, says the lifts, some of which required all four cranes to work in unison, required cranes that could lift heavy loads with precision.
"The 300 USt capacity cranes were just what we needed for the large pick weights associated with many of the lifts, especially the prefabricated tub girder structures that weighed up to 120 USt," he explains. "The Manitowoc crawler cranes exceeded our expectations and were the right crane choice for the project."
The cranes' 330-foot main booms were crucial to the lifts, raising loads above and across several traffic lanes and other road construction equipment to carefully position them on concrete support piers. The 2250s also endured shifting seasons to complete the project, ranging from heavy snow in February to sweltering heat in July.
Established in 1948, Dawes is an ALL Erection & Crane Rental company, which is headquartered in Independence, OH. Dawes has been operating in the Midwest since 1948, providing a large selection cranes and lifts. The company is a leading member of the Specialized Carriers and Rigging Association and works with all types of contractors, including general, HVAC, industrial, foundation, roofing, road and bridge builders.
Founded in 1964, ALL has grown to become one of the largest crane and equipment rental companies in North America. The company offers its fleet of cranes, aerial work platforms, boom trucks, material handlers and other lift equipment throughout the U.S. and Canada. The company provides rental, sales, service and jobsite analysis for its customers.