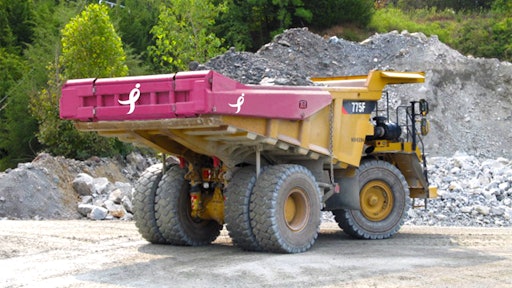 This past August, Philippi-Hagenbuch, Inc. (PHIL) undertook a unique philanthropic campaign to both give back to the community while also increasing support and awareness from customers and dealers towards Breast Cancer prevention and research through a partnership with the Susan G. Komen Memorial.
Through the agreement, PHIL began offering two unique versions of its innovative and world-famous Autogate Tailgate through its PHILanthropy program. With the sale of the themed Autogate Tailgates, PHIL not only donated a percentage towards research but also increased awareness to the cause amongst the quarries and operations in which the brightly painted tailgates were used.
PHIL and the Hagenbuch family have been giving back to various charities since the founding of the company in 1969. Along with the success of its first commercial product, the Autogate Tailgate, came the ability to give back to local, national and international non-profits. To date, much of the giving has centered around programs aimed at pediatric needs, medical research, and causes that were close to PHIL associates. In 2014, through the inspiration of its associates, PHIL wanted to make a larger impact on giving, which is what inspired the company's "PHILanthropy," the newly-coined ongoing philanthropic side of Philippi-Hagenbuch.
The first program created was called the "Pink Tailgate Initiative." The company offered any Autogate Tailgate purchased from PHIL between August and December 2014 the option of three color combinations:
The tailgate painted the standard color of the OEM truck; or
The tailgate painted the standard color of the OEM truck with Pink Ribbons on the sides and back (giving back 1% to Komen); or
The entire Tailgate painted Pink, accented with White Ribbons and Dark Pink Highlights (giving back 5% to Komen).
The results of the campaign indicate a profound success. Three clients and three dealers chose to take part in the program, increasing awareness in the communities the tailgates will reside while raising $5,000 for breast cancer research. The company gives thanks to Hanson, Luck Stone and OMYA for taking part in the initiative, and to Carter Cat, Cleveland Brothers Cat and Johnson Cat for representing PHIL products and helping to make yellow iron just a little more pink.
As PHILI's PHILanthropy evolves, the company plans to increase awareness and give back towards medical research and disease prevention through a variety of uniquely themed product offerings.