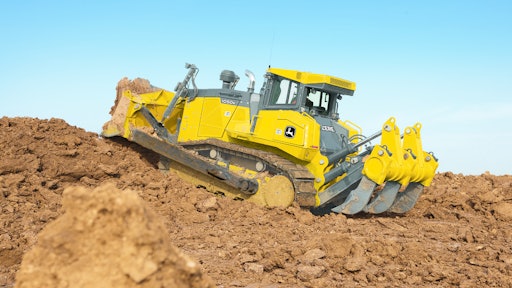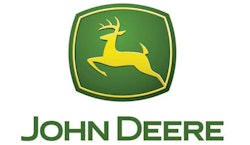 Designed and built in Dubuque, IA, the 1050K Crawler Dozer is the largest, most powerful dozer ever built by John Deere. Utilizing years of research and extensive customer feedback, the 1050K has the durability, reliability and productivity needed for mining, quarrying, road building and other large-scale applications.
"The 1050K is a new generation of crawler dozer that provides the uptime, low daily operating costs and productivity needed on today's jobsite," says Mark Oliver, Crawler Dozers Product Marketing MJanager, John Deere Construction & Forestry. "Customer feedback was vital in developing this game-changing dozer. This is a Deere-designed machine that is fully supported by John Deere dealers and it's unlike any crawler dozer our customers have ever seen in this size class."
The 1050K incorporates an EPA Tier 4 Final/EU Stage IV PowerTech diesel engine with 350 hp (261 kW). Completely redesigned from the ground up, the 1050K's dual-path hydrostatic transmission allows an operator to push a full load through turns without losing material, unlike torque-converter transmissions on competitor machines.
Like the smaller 850K, the 1050K features Eco mode. The Eco mode feature optimizes fuel economy while maintaining ground speed by automatically adjusting engine speed and transmission settings based on load. This has the potential to reduce fuel consumption up to 25% with no loss in productivity in many applications.
Operators don't have to worry about diesel particulate filter (DPF) cleaning as it still occurs automatically with no impact to machine operation. Ash service intervals for the DPF are condition based, meaning the machine will notify the operator before service is required. Typically, ash service is not necessary until the first engine overhaul. Extensive testing allowed John Deere's DPF to go up to 15,000 hours before ash removal. The 1050K also features excellent total fluid economy (diesel fuel and diesel exhaust fluid [DEF]).
The production-class dozer's heavy-duty undercarriage is sealed, lubricated and built to last. Its oval-track design has only one wear-causing forward-travel flex point, for longer life. One-piece welded maintenance resists torsional stress, absorbs shock loads, and delivers maximum strength while allowing easy service access to major components. For added durability, heavy-duty double-reduction planetary final drives are mounted independent of the track frames, where they're effectively protected from shock loads.
Inside the cab, a deluxe suspension high-back seat is angled 15 degrees to provide a more comfortable view of the ripper and adjusts seven ways for daylong comfort. An updated LCD display monitor provides enhanced onboard diagnostics with real time values for every temperature, pressure, and speed sensor on the machine. The crawler dozers constantly monitor transmission temperature to avoid damage to the hydrostat system.
Before tackling the jobsite, operators can set the maximum desired ground speed, and the power management system automatically maintains peak engine RPM and power efficiency without stalling or shifting. An ergonomically correct joystick provides intuitive, low-effort control of steering, direction, and groundspeed. An exclusive Total Machine Control (TMC) monitor allows an operator to select decelerator mode and response – forward/reverse groundspeed ranges, steering modulation, F-N-R shift rate, and forward/reverse speed ratios.
A hydraulic power-pitch option allows the operator to control blade pitch from the cab. The blade pitch is also adjustable to three mount locations for superior performance in a variety of applications and materials. The programmable return-to-pitch settings allows the operator to preset blade-pitch positions, which can be activated with the push of a button.
The 1050K's controls can be customized to meet the individual needs of an operator. The decelerator can slow both ground speed and engine RPM, or with the touch of a button, control ground speed only, to help maintain traction without affecting engine power and hydraulic response. Fully depressing the pedal applies the brakes.
With standard Electro-Hydraulic (EH) controls, all 1050K dozers are grade-control ready making adding a grade-control system as easy as plugging in the components, calibrating and going to work. John Deere's "open-architecture" design lets customers easily employ their favorite brand of grade-control system – Trimble, Topcon, or Leica. The 1050K can also have a Topcon 3D-MC2 grade control system installed at the factory for faster availability and the ability to finance the system with the dozer purchase.
"The 1050K is 100% John Deere and it's a total machine," says Dave Rock, Equipment Asset Manager, Sureway Construction. "When providing our feedback, we wanted the hood lower, we wanted to better see the ripper, and the dealers had to be behind this machine for parts, service, sales – everything."
Operators looking to get the most out of their 1050K can rely on Ultimate Uptime featuring John Deere WorkSight. With Ultimate Uptime, operators receive pre-delivery and follow-up inspections; three years of JDLink telematics, machine heath prognostics, and remote diagnostics and programming capability; and the ability to add additional dealer-provided uptime solutions to customize the package to individual needs.