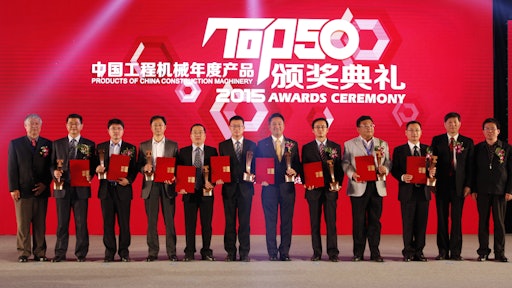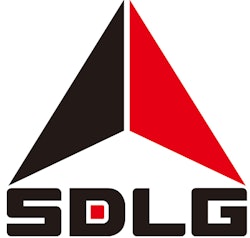 The ultimate benchmark for well-engineered Chinese construction equipment – China's TOP50 Construction Machinery Products of the Year Awards – has recognized the SDLG concept LG6460E excavator in its 2015 listing. The awards ceremony is one of the most important dates in the Chinese equipment industry's calendar and is organized by the China National Construction Machinery Association. All the major manufacturers attend the event, which this year was hosted in Beijing on April 10.  
Founded in 2006, the China TOP50 Construction Machinery Products of the Year Awards has established itself as the ultimate authority in China-made construction equipment and there is a strong focus on recognizing advances in equipment design that improve efficiency and promote progression in the construction industry.
With more than 50 national patents in China, Shandong Lingong Construction Machinery Co., Ltd. (known as Lingong), which manufactures the SDLG range of products, is one of the country's leading construction equipment companies. SDLG machines are recognized for their reliability, aftermarket support and fast return on investment. The company is also one of the largest producers of wheel loaders in the world – and produces a range of excavators, road machinery and other construction equipment.
SDLG's Brand Communication Director, Guo Shaohua, says, "We are very privileged to receive another TOP50 award, especially given the increased competition in the listing and its growing reputation. Lingong has dedicated itself to designing machines that truly meet the needs of our customers. As we continue to expand our customer base globally, we are committed to bringing our machine technology and offering to the next level to deliver higher returns and more value for our customers worldwide."
The 46 t capacity SDLG LG6460E excavator features a high-torque 13 l engine that offers excellent energy efficiency while still delivering high power to the machine's functions. Configured with a reinforced heavy-duty boom, a 2.1-cubic-meter loading bucket and a mining-type bucket rod, the LG6460E is suitable for a wide variety of heavy-duty applications such as in the quarrying, mining and cement-production industries. The ergonomic cab features air conditioning and all-round glass for maximum visibility. The GPS system makes the machine easy to track and operate, while the widened X-shaped chassis gives the machine enhanced stability on uneven ground. Configured with a smart double-pump hydraulic control system, the excavator works efficiently, delivering power where it is needed most, while also offering multiple work modes.
As part of Lingong's ongoing promise to support its customers worldwide, the company partners with a global network of experienced construction equipment distributors that offer world-class technical support on the ground in their markets.