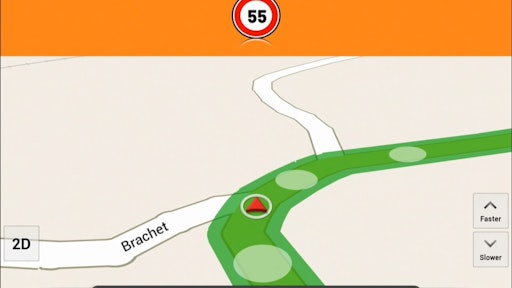 Renault Trucks is improving driver safety by offering a new option on its Nav'Truck navigation application. This is called "Mixer Rollover Alert" and is dedicated to concrete mixer vehicles with an 8 x 4 configuration. This exclusive Renault Trucks feature extends the application's capability with a function that warns drivers in the event of excessive speed when approaching a bend. The system, based on Nav'Truck GPS cartography, estimates the risk of a rollover according to topography, speed and the vehicle's load characteristics in real-time.
When the vehicle is started up, drivers activate Mixer Rollover Alert on their smart phones or tablets and enter the data required by the application: the type of concrete being carried and the volume loaded. When the vehicle is travelling, if Mixer Rollover Alert detects a risk of rollover when approaching a bend, drivers are immediately warned by an audible and visual signal (orange or red according to the level of danger and the recommended speed).
Thanks to this new tool, Renault Trucks is protecting its concrete transport customers by helping to ensure the safety of drivers, their load and other road users.
Nav'Truck can be downloaded from the Appstore or Playstore for €99.
Mixer Rollover Alert (Appstore/Playstore) is available at a special introductory price of €9.99 until June 30 (after which it will cost €199).