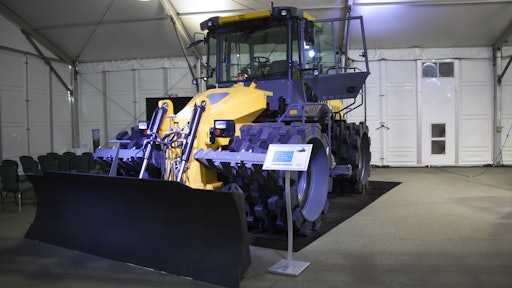 Atlas Copco unveiled several pieces of equipment during its March dealer event in Phoenix. The event introduced many models of Atlas Copco construction equipment, including the CT3000 tamping soil compactor, the CP1200 and CP2700 pneumatic tired asphalt rollers and the intelligent compaction system. Atlas Copco held the event to give dealers a firsthand look at the new products, technologies and sales tools.
"Having people see our new equipment and technology in action shows that we're committed to reinforcing our customer support," says Brian Bieller, Atlas Copco Vice President and Road Construction Equipment Business Line Manager. "The best way to accomplish that is to roll them all out at once and demonstrate their capabilities."
Dealers had the opportunity to climb aboard the equipment and take some of the latest models for a test spin. They also learned about some of the new technology Atlas Copco is launching, including its intelligent compaction system, which will be available on Atlas Copco CC2000 through CC6200 asphalt rollers and CA2500 through CA6500 soil rollers.
Atlas Copco previewed its new, easy-to-use intelligent compaction (IC) system during the event. The IC system gives contractors and equipment operators real-time material stiffness readings to ensure superior soil and asphalt compaction. For instance, the IC system allows operators to view their progress and ensure accurate pass counts. From a quality assurance standpoint, its saves contractors significant time and money because they can pull real-time data to prove that the work site received consistent compaction. The system features a touchscreen that is easy to navigate and read, making it user-friendly and convenient. And it will be equipped with Atlas Copco's Dyn@link fleet management system, which contributes to equipment wellness and theft deterrence. 
The event also allowed dealers to experience optimal operator comfort and visibility with the equipment – a hallmark of Atlas Copco's Road Construction division. For instance, the CT3000 features padfoot drums mounted on rubber tires to effectively absorb impact during operation, which minimizes vibrations to the cab to create a more comfortable ride. Several rollers, including the new CP1200 and CP2700 pneumatic tired asphalt rollers, feature a rotating seat, giving the operator a clear view of the drum edge for better precision. Spacious platforms and dual swing-out seats enhance visibility and operator comfort on the new F1000T paver – benefits that are key to efficiency, productivity and profitably.