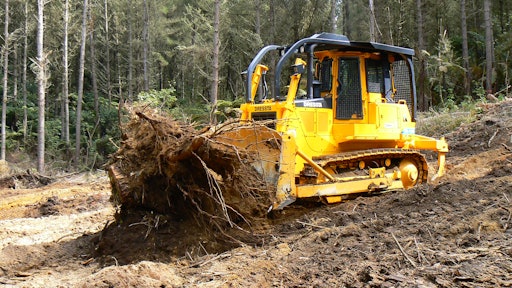 Extreme subzero temperatures and freezing air are definitely unfavorable for bulldozers working in Siberia's coal, iron ore, gold or diamond mines. The subarctic climate offers the most extreme operating conditions not only for engines but also for fuel, control, cooling and lubrication systems of machinery. However, Dressta's engineering team did manage the challenge and developed arctic versions of dozers that proved to operate successfully under such harsh climatic conditions as those in ALROSA Corporation diamond mines in Yakutia. Yakutia is located in eastern Siberia and comprises one fifth of the Russian Federation territory covering approximately the same land area as Europe.
Diamond mines in Yakutia are one of the most unusual places created by mankind on Earth. In craters of depth exceeding 500 m, diamonds are mined in such quantities that meets up to 27% of the worldwide demand for those gemstones. In 2012 to 2014, Dressta supplied six mid-size crawler dozers TD-15M Extra in arctic version to withstand prevailing extremely difficult climatic conditions as ambient temperatures in winter may drop to -60 C, and in summer may reach 40 C.
ALROSA Corporation operates DRESSTA TD-15M Extra dozers of 142 kW (190 hp) engine power exclusively for new diamond ore deposit exploratory operations. The machines are employed as towing tractors to move heavy sledge with geologic equipment such as: drillers, power generators, fuel tanks, service platforms or portable cabins for geologists and workers. Once the team reaches the test spot the bulldozer starts clearing the ground removing trees and bushes and perform leveling of the area. Upon completion the task the machine moves the sledge with equipment to the test spot. The machinery operates in winter only i.e. beginning of October to end of May – the only season when it is possible to travel on frozen swampy ground. During the summer the bulldozers are not used and stored in bases located several hundred kilometers apart. Wide and dangerous wetlands prevent ground traveling and helicopter is the only way to get to those bases.
The first arctic versions of crawler dozers were launched in Stalowa Wola nearly a quarter of a century ago. What specifically was installed in those machines so they may run at - 50 C or below?
First – engine preheating system. A small HYDRONIC diesel oil fired heater by Eberspaecher installed in the engine compartment and integrated with cooling and electrical systems. The device is electronically controlled from the cab with an additional control panel.
Second - cab interior and battery box heating system with AIRTRONIC by Eberspaecher that is installed below the cab platform.
Third - fuel heating system to prevent wax solidification and ice formation in subzero temperatures. Therefore between fuel tank and fuel filter a special RACOR PARKER fuel heart is installed. The devices should be actuated 5 minutes before staring the engine. Optionally, a Fleetguard fuel filter heater may also be ordered. 
Forth – system of heaters for hydraulic and engine oil, engine coolant and battery box. The heating system is supplied out of 220 V network with special socket and cable and fuse box. A thermostat regulates temperatures inside the battery box. When ambient temperature drops below 18 C heaters are recommended to be actuated 2 to 3 hours before starting the engine.
The specially designed arctic cab is equipped with double glazed widows for better protection against severe cold weather. Also, steering levers are installed instead of a steering joystick to facilitate precise machine operation for the operator wearing heavy gloves. An outer thermal protection of the engine compartment and tight side sheets and well as regulated radiator louver hamper cold air entry into the engine compartment.
For better power supply, the units are equipped with a higher amp alternator than that in standard version and clod start batteries. Additionally, ether start aid may be installed. Using special diesel fuel and arctic lubricants by the end user undoubtedly facilitates operation under extremely low temperatures   
Dressta TD-15M Extra crawler dozers operating in ALROSA Corporation are equipped with a 5.23 m³ blade and special towing hook that not only enables towing heavy sledge with steel rope but also prevents the rope from interfering with tracks when the machine turns.  
Dressta Construction Equipment (earlier recognized under Huta Stalowa Wola and DRESSER brand) has been well known by ALROSA since the beginning of 80s, particularly wheel loaders i.e. Ł-34 (HSW) and 570B (DRESSER) models. Ł-34 wheel loaders equipped with a 162 kW (220 hp) engine and 3.4 m³ bucket were delivered under governmental contracts occluded between the Soviet Union and Poland. Some units have been in operation up to today. ALROSA operates 534, 534C and 534E wheel loaders – upgraded versions of Ł-34 wheel loaders supplied between 2001 and 2014. They are operating during the summer in Mir Road Management  for road construction and maintenance. In winter the units remove snow from access roads. Some of those wheel loaders are used for reloading operations in diamond mine run processing in "Mir GOK" Group.
Diamond mines of ALROSA Corporation are special compared to other mines around the world. They are unique in terms of size and technology applied, and feature a big spherical crater with terraces of excavated material going over 500 m deep into the ground like giant monster's mouth. Close to "Mir" mine in Mirnyj settlement a big board reads "Crater diameter 1.2 km; crater depth of 525 meters; length of spiral downhill drive 7.7 km; output of diamond ore mined so far 68,000 ton." Value of mined diamonds amounts to 17.5 billion dollars. The gigantic mine creates local microclimate conditions which prevent helicopters flying over the mines.