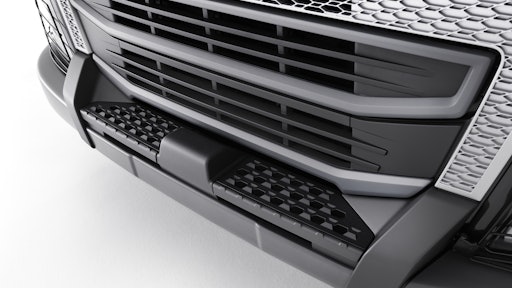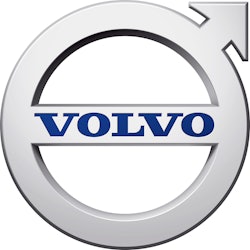 Volvo Trucks is strengthening the Volvo FH offer by introducing a new heavy-duty bumper. The reinforced front makes the truck more suitable for rugged roads and rougher applications, such as construction work and timber transports. The Volvo FH with heavy-duty bumper was unveiled at the INTERMAT exhibition in Paris April 20 to 25.
"The Volvo FH with heavy-duty bumper boosts the usefulness of our flagship truck by adding protection to its outstanding power, driving dynamics and cab comfort. The truck becomes robust enough to better tackle conditions where there is an increased risk of damage," says Ricard Fritz, Vice President Volvo Trucks Brand.
The new heavy-duty bumper for the Volvo FH is based on the same engineering concept as the front of the Volvo FMX, which is designed for rough construction environments. The corners and skid plate are made of 3 mm steel. A fixed footstep above the skid plate is integrated into the design.
The elevated position of the bumper contributes to the excellent approach angle, which is over 20 degrees on vehicles with the extra-high construction chassis that was also introduced on the Volvo FH in 2014. A certified towing eye made of cast iron, designed to handle a massive 36 tonnes, can be offered as factory-fitted option.
Tougher without altering the premium image
"The design challenge was to make the front robust without standing out too much visually. The lines of the wedge-shaped steel corners flow smoothly towards the center of the bumper. This creates a discreet, sturdy expression that doesn't alter the unique, premium image of the Volvo FH," says Rikard Orell, Design Director of Volvo Trucks.
The bumper has been extended 132 mm forward in order to take the first hits in rough conditions, protecting other vital parts such as the headlamps.
"The Volvo FH with heavy-duty bumper is well-equipped for naturally tough environments, such as construction sites and forests. The truck also becomes more capable for heavy-long haul transports in markets with rough roads," concludes Fritz.
Shown at INTERMAT in Paris
The new heavy-duty bumper, which is available on the Volvo FH and Volvo FH16, was shown to the public for the first time at the INTERMAT construction exhibition. In addition, Volvo Trucks highlighted the perfect match with various Volvo FMX applications and Volvo Construction Equipment machines, the new Volvo FL with 4x4, and innovative technologies such as Volvo Dynamic Steering.