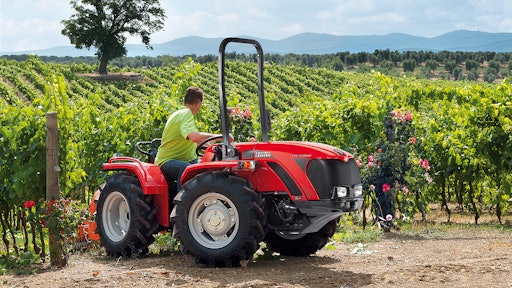 Dynamism, agility and efficiency are the results of the new generation of compact tractors designed for specialized agricultural operators on plains, hillsides and mountainsides along with the crops on the Mediterranean basin where grip, handling and dimensions are deciding factors. The "T" Major Series is made up of various steering or articulated models, with equal-sized wheels or with larger rear wheels. Its perfect weight distribution, guaranteed by the ACTIO, over all four wheels, ensures grip, stability and top level safety. All these models are equipped with independent PTO. The 12 front and 12 rear speed gearbox with inverter is synchronized, offering draft position and control lift with combined adjustment.
Among the T-Major models is the TN 5800, a favorite of Italian customers.
TN 5800
The fruit of a decade of work and manufacturing philosophy based on "constant improvement," this model is
the baby brother of the well-known Tigrone 5800, which has been at the top of the equal-sized wheel tractor rankings for years. The streamlined bodywork and the dimensions of the TN 5800 are functional and guarantee agility in narrow spaces, between rowed crops, on hills and in mountains, thus optimizing working procedures and operating times.
The TN 5800 offers a drive comfort that allows it to be used for many consecutive hours without causing the operator stress or fatigue. It offers easy access even to the least agile and heavier operators. The rear mudguards are fitted with handles that are both useful and safe while working on lateral slopes.