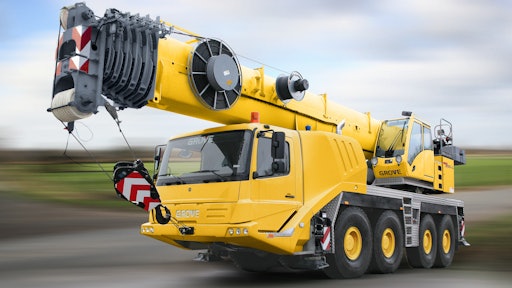 Manitowoc Cranes exhibited its versatile Grove GMK4100L all-terrain crane at the 2015 Exponor in Antofagasta, Chile's mining capital, from May 11 to 15, 2015. The 100 t (110 USt) capacity crane offers a 60 m (197 ft.) TWIN-LOCK boom on a compact four-axle carrier, ideal to travel on most highways and to deliver precise lifts to the region's expansive mining industry.
"The 2015 Exponor is a great platform to showcase Manitowoc's latest innovations in lifting and after-sales services," says Cristian Galaz, the company's Vice President of Sales in South America. "Being our first time at the event, we want to highlight Manitowoc's exceptional array of best-in-class cranes and our top-notch Manitowoc Crane Care customer support resources available in the region."
The GMK4100L is the long-boom version of the popular GMK4100 all-terrain crane. It features a 60 m (197 ft.) main boom versus the 52 m (171 ft.) boom on the standard version. The GMK4100L can lift an impressive 1.6 t (1.8 USt) at 48 m (157 ft.) radius and at just 10.7 m (35 ft.) long, the crane's carrier, which includes all-wheel steering and suspension, is compact and highly maneuverable, making it ideal for congested job sites. The crane also features Grove's latest ergonomically optimized GMK chassis cab and the Manitowoc-engineered CraneSTAR fleet management system.
Manitowoc's booth (120-E) at Exponor will have 200 m2 (2,153 ft.2) of outdoor space and will also feature one of the company's mobile service vehicles, which provide on-site assistance to crane owners and operators, even in the most remote locations.
The service vehicles are fully-equipped Dodge RAM 3500 pickup trucks, with the most advanced technology and tools to provide maximum support to crane owners when they are on the job site. With two technicians on board, the support trucks are complete mobile workshops.
"We are in a mining region and it is too time-consuming and expensive to transport cranes to a work shop for repairs, service or upgrades," Galaz says. "Having our mobile support trucks is a great benefit, especially to those working in demanding mining conditions, because Manitowoc can arrive on site to help replace a part or solve a technical problem very quickly."
According to Galaz, Manitowoc Crane Care's team helps increase efficiency for customers in the region. With the service trucks, response times for customer requests decrease significantly.
"Establishing our mobile Manitowoc Crane Care service has allowed us to be even better prepared to assist our clients in the field," he says. "The trucks are equipped with all necessary tools to support our partners, as well as the best available technology to support our technicians."
Chile is the first country in Latin America to establish the mobile Manitowoc Crane Care service trucks, having introduced them in mid-2014.
With more than 112,000 m2 (1,205,000 ft.2) of exhibit space, the 2015 Exponor was expected to bring 1,250 brands from 30 countries to display their latest innovations in mining technology. More than 35,000 visitors were expected.