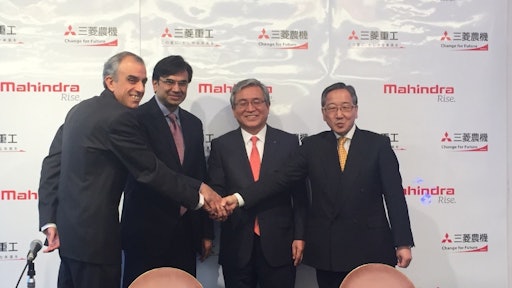 Mitsubishi Heavy Industries Ltd. (MHI), headquartered in Tokyo, and Mahindra & Mahindra Ltd. (M&M), part of the Mahindra Group headquartered in Mumbai, have entered into a strategic partnership in the agricultural machinery field. Under the definitive agreement that has been signed, Mahindra will invest USD $25 million for acquiring a 33% voting stake in MHI subsidiary Mitsubishi Agricultural Machinery Co. Ltd. (MAM) through fresh issue of common shares and Class A (non-voting) shares of MAM. The deal is expected to close by October 1, 2015, with the new funding to be used to increase MAM's capital base.
The agreement was signed by Kazuaki Kimura, President and CEO, MHI Machinery, Equipment & Infrastructure; Katsumi Tottori, President, MAM and Rajesh Jejurikar, President & Chief Executive (Farm Equipment & Two Wheeler), M&M.
This deal reaffirms Mahindra's commitment to the North American market by formalizing its relationship with Mitsubishi, which has supplied tractors to Mahindra USA for the past 12 years.
Mahindra is part of the USD $16.5 billion Mahindra Group's Automotive and Farm Sector - the #1 selling tractor company in the world, based on volumes and the only tractor manufacturer in the world to win the industry's top two quality awards – the Deming Application Prize and the Japan Quality Medal, from the Union of Japanese Scientists and Engineers. Mitsubishi Agricultural Machinery is a full range agri-machinery company producing and selling tractors, combine harvesters, rice transplanters and other agri-machinery.
Mani Iyer, President – Mahindra USA, Inc., states, "We are honored to see our relationship with Mitsubishi evolve from that of a key supplier into a strategic global alliance. The coming together of these two global corporations will allow us to better serve our customers."
Commenting on the partnership, Kimura says, "It is an honor for us at Mitsubishi to welcome Mahindra, who is the largest tractor manufacturer globally by volumes as a partner to Mitsubishi Agricultural Machinery. Today's signing will only build upon the wonderful relationship which both companies have shared for over a decade. I am sure that the commitment and expertise of both of the companies will open a new horizon to the business globally."
Speaking on the alliance, Jejurikar says, "It is a matter of pride for us to have signed this alliance today which is a 'Win-Win' for the agricultural machinery businesses of both companies. This will enable strategic growth avenues for Mitsubishi Agricultural Machinery (MAM) through Mahindra USA, China and other international markets thereby speeding up our international expansion. It will also provide a platform for both the companies to leverage Technology and Product Development synergies."
Cleo Franklin, Vice President – Marketing & Strategic Planning, Mahindra USA, Inc., states, "MUSA has a long relationship with Mitsubishi Agricultural Machinery and since 2003 we have worked together to develop products and solutions to meet our customer's needs in North America. The strength of our partnership will allow us to take the next steps towards our goal of becoming one of the Top 50 Most Admired Global brands by continuing to focus on our Customer-First and Dealer-First philosophies."
The new partnership will help both companies to jointly develop products to address global opportunities in the tractor and agri-machinery space. In addition, the partnership will enable MAM and Mahindra to improve cost competitiveness though joint procurement and optimize the supply chain.
Companies in this article