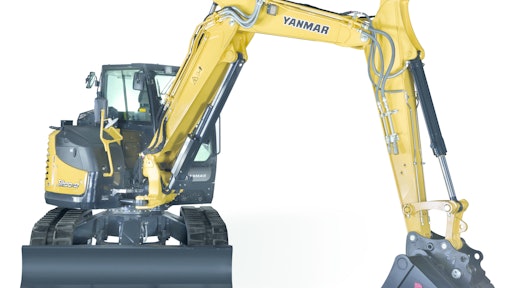 This year, Yanmar Construction Equipment Europe S.A.S (YCEE) will showcase many highlights to the visitors of the 60th NordBau in Neumünster (September 9 to 13, 2015). For the first time in Europe, the construction equipment manufacturer from Japan will show the SV100-2 with two piece boom. Furthermore, YCEE will present two models of its new wheel loader series.
Cutting-edge technology and innovation: The SV100-2 with two piece boom is the first Yanmar excavator in this version. The additional joint enhances the mobility of the compact excavator's arm and thus increases the flexibility of its usage. The machine combines the performance of a heavy excavator with the advantages of a compact machine. Robustness, outstanding performance and comfort make the SV100-2 the perfect partner for efficient work on various construction sites.
The new wheel loader series consists of four models and will complement YCEE's product portfolio – being available by the end of 2015. At the NordBau 2015, the first two models V7 and V8 will be exclusively presented at the booth of the longtime Yanmar partner HKL BAUMASCHINEN. They feature 0.7 and 0.8 cubic meters of bucket capacity and powerful Yanmar engines.
Andreas Hactergal, Sales and Marketing Director YCEE, says, "Longtime experience and Japanese cutting-edge technology: This characterizes our products. In the new wheel loader series we combine these attributes again. It perfectly completes our excavator product line. Furthermore, we expand our portfolio with the SV100-2 with two piece boom. We look forward to the NordBau 2015."