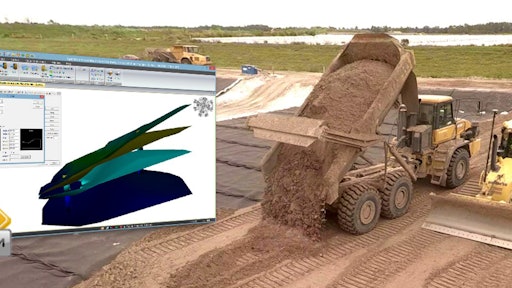 Topcon Positioning Group announces an update to the MAGNET system of software solutions that includes two new modules to the MAGNET Office software suite. MAGNET v3.1 introduces Takeoff and Mass Haul modules that are purpose-built to provide material-driven estimates, and efficiently manage haul routes to save time and reduce costs.
"The introduction of the new Takeoff and Mass Haul features empower users to generate and share cost estimates as well as visualize their time-sensitive projects before ever breaking ground," says David Ahl, Director of Software Product Management.
"Since its inception, the MAGNET system has provided a secure and sharable platform to connect project managers and their teams in real time — now the system is an even more powerful management tool for the industries we serve. In the early and crucial steps of providing bids and generating potentially multiple estimates, these new MAGNET Office modules offer a game-changing advantage," Ahl says.
The Takeoff module of MAGNET Office software offers a workflow built to quickly import design data from a variety of industry file formats, declare the cost and type of building materials to be used, and work directly with borehole information. "By adding this key information, estimators can now generate and share accurate volume and cost reports within a single software system — providing a competitive advantage to be able to calculate and visualize the work ahead as well as ultimately deliver accurate and detailed bids to their clients," says Ahl.
As a counterpart to the Takeoff module, features now available within the corresponding Mass Haul module are designed to complete the estimating process through the planning of materials hauling. Ahl says, "Project data such as road alignment information and material types are instantly transferred to the Mass Haul module where the most cost effective options can be determined, visualized, and shared. Customizable reports are available to provide and plot resulting haul costs and efficient routes.
"Adding both MAGNET Office software modules of Takeoff and Mass Haul to your tool belt will save days of work that was traditionally done with multiple file formats using a combination of various software packages. Topcon is now delivering an intuitive project estimation and planning solution within the MAGNET software system, making the entire construction process seamless," says Ahl.
MAGNET users that are currently covered within their software maintenance period are eligible to update to the 3.1 version of their product immediately.