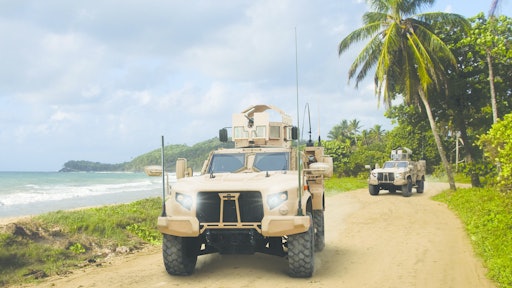 Oshkosh Defense LLC, an Oshkosh Corporation company, will be displaying the newest member of the Marine Corps vehicle fleet, the Joint Light Tactical Vehicle (JLTV), at Modern Day Marine in Quantico, VA, September 22 to 24, 2015. The Oshkosh JLTV represents the next generation of light tactical vehicles with unmatched protection, off-road mobility, reliability and modularity – at an affordable cost.
"Marines are a go anywhere, do anything force and they need a transportable vehicle that supports the most demanding missions and gets them back home safely," says USMC Colonel John Bryant (Ret), Senior Vice President of Defense Programs for Oshkosh Defense. "The Oshkosh JLTV provides Marines with the protection of a light tank, the underbody protection of an MRAP, the network capability of a mobile command center and the off-road mobility of a Baja 1000 racer. Marines have never before had this much capability in a light vehicle."

The JLTV program fills a critical capability gap for the U.S. Army and Marine Corps by replacing a large portion of the legacy HMMWV fleet with a light tactical vehicle with far superior protection and off-road mobility. The Oshkosh JLTV combines the latest in automotive technologies, the Oshkosh Core1080 crew protection approach, and the Oshkosh TAK-4i intelligent independent suspension system to provide the world's fastest, most protected light military vehicle. The Oshkosh JLTV proved, through extensive U.S. Government testing and evaluation, that it's the most capable light vehicle on the planet.
What U.S. Marines can expect from their new Oshkosh JLTV:
A vehicle 1/3 smaller and lighter than the M-ATV
Off-road speeds 70 percent faster than today's gold standard, the M-ATV
A modular design that can be quickly and efficiently outfitted for a full range of missions
Fully transportable by sea or air, such as a CH-53
Network ready and VICTORY compliant
Superior ride quality
Oshkosh leadership will be available to discuss the company's full portfolio of USMC vehicles, technologies and services at Modern Day Marine booth #2500.