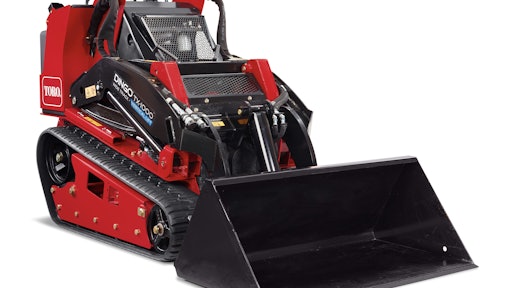 As the pioneer in the tracked compact utility category, The Toro Company introduces the latest and most powerful Dingo to its lineup — the Toro Dingo TX 1000. The newest member of the Dingo family has a rated operating capacity exceeding 1,000 lbs., which is the strongest in the category. When the loader arms are fully extended, the hinge pin measures an impressive 81 in. from the ground to allow the TX 1000 to easily reach over the side of dumpsters and one-ton trucks to maximize jobsite productivity.
Also unique to the industry and the category is Toro's exclusive vertical lift loader arm, which keeps the load closer to the machine to allow operators to lift more weight with greater confidence. Additionally, this feature increases the reach at full height to make dumping more efficient. The vertical path of the lift arms is also exceptional in vertical applications with the auger or concrete breaker. Another exclusive feature on the new TX 1000 is the power-to-weight ratio. The narrow track model is 2,610 lbs. (1,184 kg), and the wide-track model is 2,790 lbs. (1,266 kg). The wide-track model can lift more than any compact utility loader (CUL) in the category at 1,075 lbs.­­­
"We're thrilled that the new Dingo TX 1000 is already proving to be an outstanding machine on underground and utility operations across the globe," explains Josh Beddow, Marketing Manager for The Toro Company. "We know having one machine that can perform a variety of functions on the jobsite is of the utmost importance, and the Dingo TX 1000 has over 20 attachments that make this an incredibly versatile piece of equipment."
In addition to a high level of utility across general construction, earthmoving, landscaping and road building sectors, the TX 1000 can also be outfitted with a number of attachments specific to the underground and utility industry. Among the attachments in this specific group include: a vibratory plow attachment for irrigation and cable installations; a bore drive head attachment for boring under sidewalks or other space-restrictive areas; and, high-torque and high-speed trencher attachments for small- to mid-size trenching projects, just to name a few.
When compared to dedicated horizontal directional drill (HDD) or vibratory plow units, the relatively small footprint of the Dingo TX 1000 can potentially minimize turf and terrain damage that can occur during utility installation projects. The Dingo TX 1000 provides utility contractors a highly mobile and maneuverable alternative to traditional underground and utility equipment.