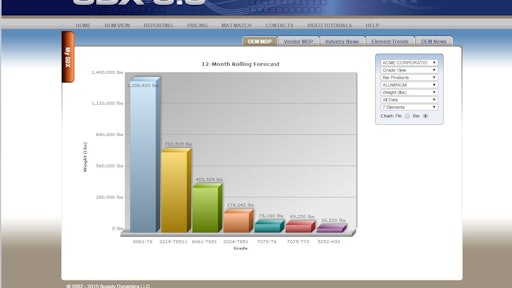 Today, the cloud has become a ubiquitous term for the way in which we store just about everything—photos, music, documents. It enables us to store our information in a remote location, and then access that information from anywhere at anytime. The cloud has also made it easier to share information, becoming a key tool in many organizations for project collaboration.
As such, many software companies have begun introducing web-based platforms which enable engineers to easily share and access simulation tools and information via the cloud. Exa Corp. introduced ExaCLOUD in early 2015, a web-based platform which enables users to access the full suite of Exa products. "It's a web application that allows users to access state-of-the-art high-performance computing," says Kevin Horrigan, Senior Director, IT and Cloud Platform at Exa Corp. "Many of our customers don't have in-house access to large computing clusters, and this platform enables them to access thousands of simulation CPU cores on-demand to execute their simulations and get really fast turnaround times."
He says the increasing use of cloud-based capabilities is being driven by companies moving to a hybrid-cloud solution in which they might have some computational resources at their company, but economically it just doesn't make sense to purchase large super-computing clusters on-site that may only be used at certain periods throughout the year. Customers want to be able to access super computing capacity in an on-demand basis, and to do so quickly since many projects have tight time constraints.
He notes that more customers are moving towards the use of optimization methods, as well. "Rather than submitting one or two simulations at a time, they're doing dozens at a time," says Horrigan. "So their computational needs go from zero up to thousands of cores where they want to tap into that capacity over a weekend and have the results on Monday."
Benefits of the cloud
With ExaCLOUD, an engineer can use any web browser to upload CAD models, monitor simulations, look at the results and conduct interactive results analysis. In creating ExaCLOUD, Horrigan says the company wanted to support the full end-to-end simulation process and provide a complete simulation environment, as opposed to just an interface where users would upload models, download the results, then post process locally. "Our goal was to have it be the central simulation environment for teams of users," he says. "We expect the initial biggest advantage is that with no upfront cost, our customers can get access to state-of-the-art simulation capabilities and then they just pay per use."
Additionally, he says ExaCLOUD provides project teams with the ability to connect and access the same set of data and share results. There is a feature within the platform that allows a user to join another user's session, enabling them to work together in the same environment. "They can see the model rotating and have a call together to analyze the results in a live kind of mode…rotating the 3D model, zooming into areas to look at regions where there might be an opportunity to change the design to meet the performance objectives," says Horrigan.
With its release of MapleSim 2015, Maplesoft introduced MapleSim Server which allows users to take simulation models built within the MapleSim design software and deploy the results of that simulation across the organization using any web browser. Via the web browser, engineers are provided with a simple user interface (UI) to access the results of the simulation model. They are also able to enter various parameters and see how the model will perform in the overall system that is being simulated.
In the past, companies used to have to code the UIs themselves, or hire a consultant to build the UI on top of the simulation model. "MapleSim Server gives you a very easy, straightforward drag and drop environment for putting these UIs together, so there's very little effort between having a model and being able to deploy that model to a wider audience in the engineering organization," explains Laurent Bernardin, Chief Scientist and Executive Vice President at Maplesoft.
He notes that there is a large population of the engineering community which is closer to the production side of the design process, and is not necessarily concerned with building new models. Instead, their focus is on calibration, validation and the safety parameters of the product being developed. They only need access to the simulation models, but in a straightforward manner which enables them to play with various settings of the model and get insight into how it behaves. "They don't need a full environment where they design and change that model," says Bernardin. "They need a web browser and a very simple UI where they can investigate that simulation model and get some insight from the existing model somebody else built." With MapleSim Server, they can do that and not worry about having the actual MapleSim software.
Trevor Stansbury, President and founder of Supply Dynamics LLC—a company which designs and deploys technology solutions to help users control and manage the parts, components and raw materials in their distributed manufacturing environments—says one of the benefits of its cloud-based SDX platform is the fact that there is not any complex software to install. Any web browser can be used to access the stored information from anywhere around the world.
SDX is a multi-enterprise platform that allows OEMs to have real-time visibility and control over the raw material inputs of the components they are sourcing from various suppliers. "Setting something like this up outside of your ERP [enterprise resource planning] that is compatible with your ERP becomes a way you can allow a distributor and hundreds of part suppliers to log in and validate bills of materials without jeopardizing or creating undo security concerns in your ERP," says Stansbury.
Keeping it secure
With the influx of cloud-based platforms has also come the concern over security. "A lot of companies are uncomfortable, with good reason, with having their core IP [intellectual property] available to the outside world or [accessible] on a server that they don't have direct control over," says Bernardin.
As a means of ensuring security, he says MapleSim Server does not allow information to be shared publically, only within an organization. There are also options within the platform which allow users to determine who can access the MapleSim server, as well as take the more sensitive, internal working knowledge of a component out of the simulation model.
Horrigan adds that navigating security concerns is often a topic of initial discussion when introducing customers to a cloud solution. "Customers that are used to having licensed software in-house need to be educated and assured of the security provided when operating in our ExaCLOUD environment," he says. "Typically we go through a Q&A with our customers' IT groups, we review our process for how we authenticate users on a system, and discuss how data's encrypted while it's being transferred to the remote data center. By the end of the meeting, customers understand that their data is and will remain in an extremely safe environment."
Stansbury says Supply Dynamics uses independent auditors to perform annual security and penetration testing of its SDX platform. It was also completely built in-house, using no subcontracted third parties, further ensuring the security integrity of the software.
Beyond that though, he says the company ensures no company's engineering drawings are stored on the platform. Instead, the drawings are stored in-house on a separate server and either sent back to the customer or destroyed once the necessary information is collected from them. The only information that resides in the SDX platform is a part number and any part number attributes—form, alloy, grade, specification and dimensional information. "That information is much less sensitive," says Stansbury. "It's sensitive, but if it were ever disclosed it would not create the kinds of problems that you would have if for example an engineering drawing or a CAD file were accessed. Notwithstanding that fact, we still take all of the precautions to protect that information."
Bernardin says the trend towards cloud accessibility will only continue to progress and that more services will become consumable by a web browser, as well as mobile devices. This will make it even easier for engineers to access information from wherever they are. In addition, the ease of use and ease of constructing UIs will continue, further easing the design process. "That's a trend that we're going to see growing, the need for making engineering data easily accessible and removing any barriers to getting the data you need to quickly get the insight to make better design decisions."