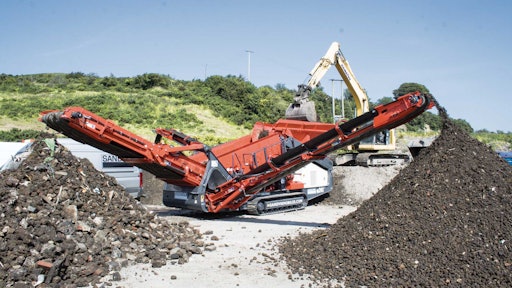 Sandvik Construction is expanding its range of scalpers with the launch of the new QE241 heavy-duty scalper. Compact in design and easy to transport, customers will benefit from the same outstanding, user-friendly features from the Premium range of scalpers, yet in a smaller scale version.
Sandvik has developed the QE241 based on customer feedback. Although targeted primarily at the European market, it will be the ideal solution for smaller end users where performance, versatility, transportation and setup times are most important. The QE241 also benefits from Sandvik's long history of mobile scalper development as well as sharing common characteristics from its larger siblings including a two-way split configuration option and sequential start-up.
Capable of scalping before or after a small crusher, the QE241 features a heavy-duty variable speed belt feeder and a highly aggressive 11 ft. x 4 ft./3,500 x 1,240 mm double deck screenbox. This offers the largest scalping area in its class, which combined with the banana-type bottom deck arrangement, will provide a highly effective and efficient screening solution like no other. The impressive 1,200 mm/47 in. wide conveyor can handle the toughest oversize material and two hydraulically folding side conveyors handle the fine and midsize products.
With a wide choice of screen media available, the QE241 offers customers a highly versatile unit which can be configured to suit the specific requirements of the application. Its robust chassis has been designed to be compatible for two-way or three-way split versions, a unique feature in this product category.
The safety and comfort of use is of paramount importance for operators. A key benefit is the easy-to-use control system and user interface with sequential start, a common feature across the 1 Series screens and scalpers. The model also comes with two speed tracking which helps to reduce travel time between jobsites.
Designed for ease of transport, the 17,500 kg/38,580 lb. model comes complete with hydraulically folding tail and side conveyors, together with a rigid one-piece hopper for quick set-up times. These features, combined with its compact footprint make it ideal for contractors requiring the need to travel quickly from site to site.
Ease of maintenance is ensured through the hydraulic jack up facility on the screen box, also common with its larger siblings. This allows easy access to the bottom deck for service and screen media changes.