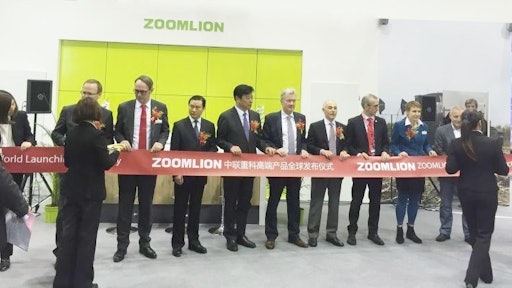 The biennial Agritechnica, the world's leading international exhibition for agricultural machinery and equipment, officially got underway in Hanover, Germany on November 8, 2015. On the first day of the show, China-based agricultural machinery maker Zoomlion released a new, high-end line of agricultural machinery and equipment, including Zoomlion-branded tractors and harvesters, the technical specifications of which are in full compliance with the latest international standards. The product line is expected to be widely noticed by both industry insiders as well as by leading agriculture machinery manufacturers in the United States and Europe, both for product appearance as well as for their intrinsic properties.
Zoomlion rolled out a variety of Zoomlion-branded high-end agricultural machinery at the show, including tractors with small, medium and big horsepower ratings and a new type of static hydraulic-driven grain combine harvester. The all-new tractor series ZK, ZN, ZS, ZL and other tractors produced on Zoomlion's global specifications-compliant platform have been developed through the integration of Zoomlion's global resources that include the company's R&D, parts supply and quality management, ensuring the application of technologies to the chassis, engine and other key parts that are in line with prevailing European standards. All the new products meet international standards in terms of technical specifications and performance.
ZL2104, a product with maximum horsepower developed jointly by Zoomlion and its research and development center in North America, meets international standards in all respects in terms of power, value for money and intelligence-based control functionalities. Its smart control features include computer-controlled APS automatic shift, differential lock, four wheel drive, clutch switch, as well as automatic cruise control and unmanned driving in the field. The power shift transmission allows for automatic shifting between gears, offering drivers a machine that is easy to operate yet provides a high level of driver controllability. The man-machine interaction and ergonomic features have been improved through an expansion of the cab and the hydraulic suspension enhances driving comfort. In addition, the infotainment systems, including the digital dashboard and the video imaging system for driving in reverse, the MP3-based audio system, combined with the high-end interior, create a pleasant driving environment.
Recently released statistics indicate that most traditional manufacturers are still producing machinery and equipment at the low-end of the market, including small and medium horsepower tractors and combine harvesters meaning product portfolios are not well balanced in terms of world demand. Despite years spent on development, severe overcapacity has led to a saturated market and although many producers have been looking to overseas markets, because the added value of their products are low, their market share in the international market has never been substantial. At the same time, Chinese makers of hi-tech, high-end agricultural equipment and core parts have, for a very long time, depended on imports. The lack of core technologies combined with product homogeneity has created the biggest challenge for China's agricultural equipment industry.
Zoomlion Vice President Wang Jinfu explains, "It is beneficial for makers across our industry to adjust their product portfolios and generally transform the entire sector. An improvement in the core competitiveness is the only way for Chinese agricultural machinery manufacturers to be able to expand into overseas markets and offer high-end products suitable for the international arena. Zoomlion's development followed a specific plan: first, cooperate with the international first-class institutions, next, promote innovation and independent research and development, then develop agricultural machinery with fully independent intellectual property rights, ultimately leading to a new pattern of global competition in the market."
By leveraging top-notch international technology and resources, Zoomlion has, in a relatively short time, designed and manufactured high-end products that conform to European design concepts, environmental regulations and certification standards and competed with the world's agricultural machinery giants on the same stage. But this is not the final development goal for China's agricultural machinery sector. Looking ahead, Chinese agricultural machinery manufacturers, with Zoomlion at the helm, fully expect to bring about the independent research and development of core technologies. They will design products without outside help, while their products will feature high-end configurations, stable performance, novel appearance and a smaller technological gap or even come equipped with better technologies when compared with products developed by manufacturers based in Europe and the U.S., showing the world that agricultural machinery will not only be "made in China" but also "created in China" and can stand shoulder to shoulder with its peers in the world's high-end market.
Zoomlion first exhibited at Hanover's Agritechnica in 2013. For this second appearance at the show, the agricultural machinery producer plans to showcase the newly-acquired prowess and confidence of China's intelligent manufacturing with a full series of high-end agricultural machinery that completely integrates world standards, taking the first step of what will be a steady, well thought-out process of leading the whole of China's agricultural machinery manufacturing sector to a higher level.