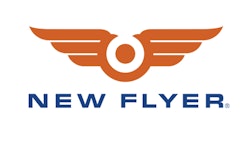 New Flyer Industries Inc. announces that it has entered into a definitive agreement to acquire Motor Coach Industries International Inc. (MCI) from an affiliate of KPS Capital Partners L.P. for cash consideration of US$455 million subject to certain purchase price adjustments (the transaction). The completion of the transaction is subject to customary closing conditions including U.S. antitrust and Canadian Competition Act approvals. Management currently expects the Transaction to close by the end of 2015.
Founded in 1933 in Winnipeg Manitoba, MCI is North America's leading motor coach manufacturer and parts and service supplier with three manufacturing facilities and nine service and parts distribution centers. As of December 31, 2014, MCI had the largest installed base of motor coaches in North America with approximately 28,000 units, nearly twice the installed base of its nearest competitor. Well known in the industry for best-in-class quality, reliability, lowest cost of ownership and a robust coach aftermarket parts and services offering, MCI's business parallels New Flyer's leading position in the North American heavy-duty transit bus industry. While there are a few common public customers, MCI does not compete with New Flyer.
For the nine months ended September 30, 2015 MCI delivered 576 new coaches resulting in new coach revenue of approximately US$315 million and also generated pre-owned coach and aftermarket parts and service combined revenue of approximately US$128 million. Total revenue for this period was approximately US$443 million.
Paul Soubry, New Flyer's President and Chief Executive Officer, comments on the acquisition, "We are thrilled to combine North America's number one brand in heavy-duty transit buses with North America's number one brand in motor coaches. We are very proud of our track record that focuses on employee engagement, customer satisfaction and shareholder value. We intend to build on this success with the addition of MCI and view this complementary business as an important step forward to diversification and growth in areas where we can leverage our OpEx, sourcing, manufacturing, parts distribution and service expertise."
New Flyer's Chairman of the Board, the Honorable Brian Tobin P.C., O.C., adds, "With the successful acquisition and integration of Orion Parts and NABI, New Flyer has demonstrated that we have the leadership, expertise, financial performance and capital structure to complete accretive acquisitions and create real shareholder value."
The transaction presents a number of attractive opportunities for New Flyer, including:
Growth: MCI provides New Flyer with strong positions in both the North American private and public motor coach markets with significant scale in the motor coach parts and service business.
Diversification: The addition of MCI's new and pre-owned coach business significantly diversifies New Flyer's product offering and customer base. In addition to various transit customers, a number of which overlap with New Flyer's existing customer base, a significant portion of MCI's business is derived from private customers, including private charter and tour operators.
Potential Synergies: New Flyer has identified opportunities for cost synergies and plans to implement its operational excellence (OpEx), information technologies and engineering expertise across MCI, similar to what has been successfully implemented with prior acquisitions.
Collaboration and Sharing of Technology and Best Practice: The combined entity will employ approximately 4,800 people who share a like-minded commitment to excellence in bus and coach manufacturing and customer support with over 42,000 transit buses and 28,000 coaches currently in operation in Canada and the U.S.
Building on Global Relationships: MCI is the exclusive sales and service organization for Daimler's Setra coaches in Canada and the U.S. In addition, New Flyer has a strong relationship with Marcopolo S.A., an almost 20% equity holder, with global expertise in bus and coach design, sourcing and manufacturing.
The transaction, including related expenses, will be funded through new US$825 million senior secured credit facilities with a four year maturity consisting of a US$482 million term loan and a US$343 million revolver. Assuming a December 31, 2015 closing of the transaction, management expects the revolver to have approximately US$135 million drawn, which would result in expected pro forma total indebtedness to combined Adjusted EBITDA (within the meaning of the new senior credit facilities) of approximately 3.0x at closing. New Flyer has obtained fully underwritten financing commitments for the new credit facilities, subject to customary terms and conditions, and expects to enter into definitive new credit agreements upon the closing of the transaction.
Furthermore, the transaction is expected to be highly accretive to New Flyer's earnings per share and free cash flow per share, even before synergies. New Flyer is currently targeting annual synergies of approximately US$10 million through the rationalization of corporate costs and deployment of New Flyer's OpEx and sourcing expertise.
Following closing of the transaction, New Flyer intends to increase its common share dividend 12.9% from C$0.62 to C$0.70 per share annually and move from a monthly to a quarterly dividend payment schedule. Further details will be announced following completion of the transaction. New Flyer has paid dividends to shareholders for over 120 consecutive months since the company's initial public offering in August 2005.
BMO Capital Markets is acting as exclusive financial advisor and Torys LLP is acting as primary legal counsel to New Flyer in connection with the transaction. The Bank of Nova Scotia and BMO Capital Markets have provided a fully committed underwriting for the acquisition financing and are acting as co-lead arrangers and joint book runners on the new senior credit facilities.