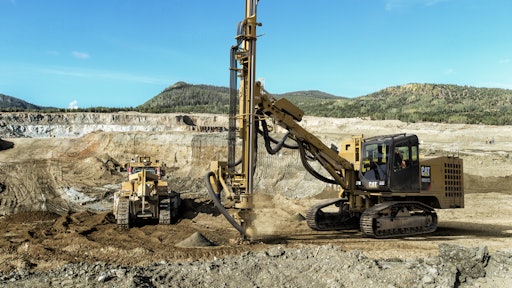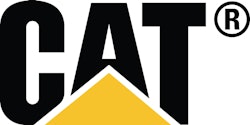 The new Cat MD5075C Track Drill is designed for best-in-class productivity, durability and low total cost of ownership. Cat rock drills deliver three times the lifespan of competitive drills, and the Cat carousel rod changer and drill rod handling system are a reliable mechanical design with no sensitive electronic sensors to cause downtime. The proven Cat C9 engine and Cat 315E excavator undercarriage further enhance productivity and reliability.
The MD5075C replaces the MD5075 and is capable of drilling holes of 3 to 4.5 in. (76 to 114.3 mm) in diameter to a depth of 102.5 ft (31 m). The fuel efficient 300 hp (224 kW) C9 engine can be configured to meet emissions standards worldwide. The compressor, which features widely variable air control, produces 350 cfm at 150 psi (9.9 m3/min at 10.2 bar).       
Two different rock drill choices enable matching to the application to achieve the highest production rate. The standard rock drill on the MD5075C is the HPR5123, which uses a 45 or 51 mm drill rod. Also available is the HPR4519 Rock Drill, which uses a 45 mm drill rod. Caterpillar is the only manufacturer offering rock drills designed to be serviced on-site for reduced downtime and costs. Cat Rock Drills deliver three times the lifespan and less than one half the parts cost of competitive rock drills.
New cab, controls, operating system
The MD5075C cab provides superior safety features, such as numerous shutdown methods and responsive controls, which also help minimize fatigue. The cab is quiet and comfortable and is isolator-mounted to minimize vibration. The pressurized cab reduces dust infiltration and features a powerful HVAC system. The new six-way adjustable seat is designed to comfortably accommodate a wide range of operator needs.
The control system features touchscreen navigation for Drill Assist, rearview camera, tram, water, rock drill auto-lube, alerts, drilling and target depths, penetration rate, machine performance, total hours and service. The high resolution display uses simple icons to aid navigation and control, and it shows constant performance monitoring of pressures, rotation and hole depth. The depth indicator ensures all holes are drilled to the planned depth to promote a better floor, reduce secondary blasting and reduce equipment wear.
The MD5075C also incorporates technology to assist in operations and equipment management. To support the operator, Drill Assist monitors main hydraulic systems and automatically adjusts to pre-programmed parameters. It incorporates anti-jam, anti-plunge and anti-plug which combine to boost productivity and increase the life of the drill string.
Cat Track Drills are equipped with the Cat Monitoring System (Cat MS) which monitors critical engine functions and will derate the engine to protect itself from damage if needed. When critical conditions arise, the Cat MS monitor displays warning lights and sounds alarms.
Cat Track Drills also include Product Link which allows remote machine monitoring and tracking reported via satellite and cellular networks. The system monitors machine status and provides utilization and machine health trends through reports generated by VisionLink software.
Designed for easy maintenance
Cat drills are designed for maintainability. Simple and well-organized electrical/hydraulic arrangements, logically located components and ground level service facilitate maintenance. One hundred percent of all rock drill service can be completed without removing the drill from the feed. Additionally, the MD5075C is equipped for technicians to quickly diagnose system performance using the Cat Electronic Technician service tool.
The MD5075C also has additional fuel filtration to help ensure reliable engine operation and extended component life. The remote-mounted secondary and tertiary 4-micron filters are located for easy access.