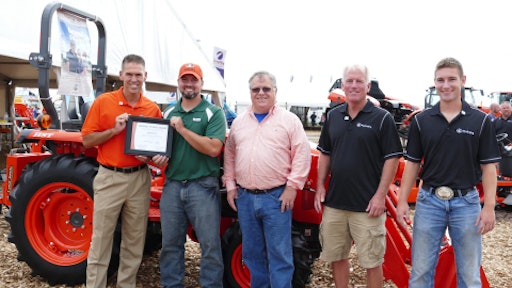 From its booth at the Farm Progress Show, Kubota Tractor Corporation announced that the latest recipient of a donated tractor in its "Geared To Give" program is Iowa farmer Aaron White, owner of White Stock and Produce in Carlisle, IA. During a special ceremony, White was presented with the keys to a Kubota L-Series compact tractor in recognition of his years of service in the U.S. Marine Corps and for his dedication to farming. The donation by Kubota is in partnership with the Farmer Veteran Coalition (FVC), in an effort to provide financial support and donated Kubota equipment to U.S. military veterans pursuing a future in farming. 
White and his wife, Dana, manage 150 acres of row crop, along with a garden, and their cow-calf operation. White is a second generation farmer, a fifth grade teacher, as well as a father of three, with his sights set on growing his farming operation. He served in the U.S. Marine Corps through 9/11 as a machine gunner in Japan, the Arabian Gulf, and Afghanistan until May of 2005. 
When told by phone that he had been selected as this quarter's "Geared to Give" recipient – the same day he won the tallest corn contest at the Iowa State Fair at 21 ft. 9 in. – White was overwhelmed with emotion, simply stating, "I'm absolutely bewildered and can't express my gratitude at this point with more than just a simple 'thank you.' In farming it seems that there is always a wolf at the door, but I'm a positive person even through the hard times and I'm so thankful to this program for helping my dreams come true." 
Kubota's philanthropic mission is to "power and empower those who move the earth," and in that spirit "Geared to Give" was born in partnership with FVC in early 2015. The program works to identify the needs and further the agriculture careers of those who have served their country and are now serving their communities through farming. 
"Farmer veterans like Aaron have earned the right to a little help," says Todd Stucke, Kubota Senior Vice President of Sales, Marketing and Product Support. "They have proudly given back to this country through their military service to protect our way of life, and here at Kubota we are proud to help Aaron continue to make a difference in his community by farming in Iowa for many years to come." 
White's dedication to improving his farming practices through learning and teaching is what made his application stand out. Each year, he attends the Practical Farmers of Iowa conference and holds a monthly gathering of ranchers in his community to share ideas, and has opened his farm up to others to gain hands-on experience. In 2015, White received a grant through the Bob Woodruff Farming Fellowship through the Farmer Veteran Coalition to purchase a trailer and a bull to enhance and expand his operation. He is also one of 600 veteran farmers and ranchers nationwide that are certified to sell their product under the Homegrown By Heroes label. 
Michael O'Gorman, Executive Director of FVC was also on hand for the special ceremony. "Aaron's experience growing up on his step-father's farm taught him to raise cattle, sheep, hogs, goats and chickens and this experience was just the beginning of what developed into a lifelong commitment to agriculture," O'Gorman said. "We are pleased to be able to award this tractor to Aaron today and we know that his dedication to farming and these new tools will be able to grow his farm well into the future." 
"We have been proudly serving central Iowa for more than 40 years," says Mark Kruse, owner of Capital City Equipment, White's authorized Kubota dealer in Des Moines, IA. "We are proud to be a part of this meaningful donation to such a worthy recipient, and we look forward to support Aaron's continued dedication to farming in our community." 
In addition, a Kubota-orange canopy, which will help shield White from the elements while operating his tractor, was donated by Firebird Products, a Kubota supplier for aftermarket accessories. "We are proud of our veterans," says Keith Robinson, owner of Firebird Products. "We are thankful for a partnership with a company such as Kubota that enables us to support such a worthy cause." 
Based in Davis, CA, FVC is cultivating a new generation of farmers and food leaders, and developing viable employment opportunities and meaningful careers for veterans through the collaboration of the farming and military communities. FVC believes that food production offers purpose and opportunity, as well as physical and psychological benefits for all veterans. FVC works with veterans from all military branches, their families, employers and mentors to support those returning to or beginning careers in food and farming. 
Farmer veterans can apply to the FVC Fellowship Fund in order to be considered for donated Kubota equipment through the "Geared to Give" program. Kubota has selected its Standard L-Series compact tractors for this program, as their versatility and efficiency are ideal for meeting the varying needs of many small- and medium-sized farming operations.