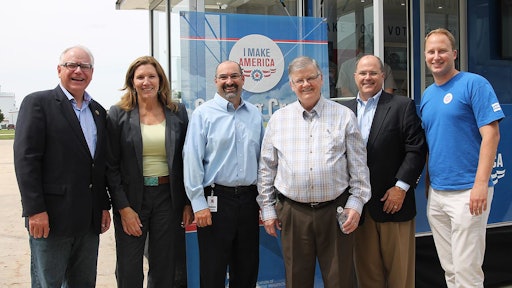 AGCO Corporation, a world-leading manufacturer of a variety of agricultural equipment products, welcomed the 'I Make America' campaign to its Jackson, MN, factory on August 19 to celebrate the contributions of manufacturing to the local and national economy.
AGCO held the event to help promote pro-manufacturing and pro-agriculture solutions and economic investment as manufacturing voters in Minnesota and across the country prepare to go to the polls in November's general election. AGCO produces Massey Ferguson high horsepower tractors, Challenger track, articulated and wheel tractors and RoGator and TerraGator application equipment at its Jackson facility.

"As a leading producer of agricultural equipment, AGCO is excited to join with I Make America to highlight the contributions of the entire equipment manufacturing industry, and call attention to the issues that matter for manufacturers," says Eric Fisher, Director of Operations at AGCO in Jackson. "AGCO is proud of the jobs we support here in Minnesota, and we hope to help elected leaders understand how manufacturing helps form the backbone of the American economy."

I Make America is a grassroots campaign launched 5 years ago by the Association of Equipment Manufacturers (AEM), a global trade association representing manufacturers of farm, construction, utility and mining equipment in North America. I Make America is dedicated to raising awareness of sound public policies that benefit the entire equipment manufacturing industry.

"AGCO is an industry leader in farm machinery manufacturing, and it's only fitting that the I Make America campaign visits Minnesota to showcase the jobs and opportunity that AGCO supports in the Jackson community," says Dennis Slater, President of AEM. "We hope the I Make America campaign can help to highlight for AGCO employees the need for pro-manufacturing and pro-farming policies, especially during this important election season."

In 2016, I Make America will visit over three dozen manufacturers to engage both employees and elected officials on the issues that matter to manufacturers. The tour is supported by a traveling truck featuring a custom interactive experience (which is also available as a smartphone app) that engages players on manufacturing issues at stake this election season.