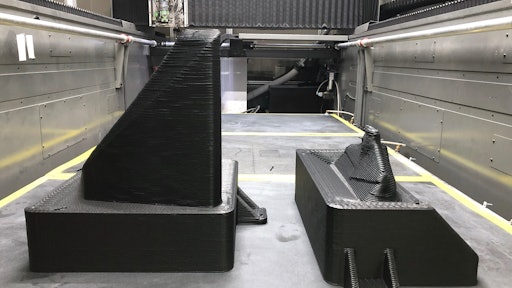 Cincinnati Incorporated (CI) will showcase its family of Small Area Additive Manufacturing (SAAM) machines at RAPID + TCT 2019 in Detroit, MI, in Booth #1517, May 21-23.
CI offers an array of 3D printing capabilities through a variety of additive manufacturing systems. The company will demonstrate the abilities of the SAAM and SAAM-HT 3D printers at the trade show. The SAAM machines were originally designed as a complement to CI's larger BAAM and MAAM industrial sized additive manufacturing machines. They allow for prototypes to be created before entering full-scale production on the larger machines.
Both the SAAM and SAAM-HT are ideal for creating functional parts as well. The machines are small enough to fit on desktops and similar surfaces, making them the ideal solution for additive manufacturing capabilities when space is limited. Both machines utilize CI's patented Automated Ejection System to provide the capability for continuous, unattended 3D printing. They are the only 3D printing machines that offer this function.
SAAM is optimized for carbon-fiber composite 3D printing. It boasts a 6061 Aluminum and Steel frame and a heated bed temperature of 90 C (194 F). SAAM offers FFF 3D printing and can form any shape imaginable. It is certified to print in Carbon Fiber Nylon and PLA.
The SAAM HT has the same ease and speed of the SAAM machine but offers more power and a wider range of options. It features the ability to 3D print in ULTEM 9085 PEI, PEEK, CarbonX, Carbon Fiber-Nylon, Makeshaper PLA Spool or any thermoplastic up to 500 C (260 F). All of these options make the SAAM HT the most affordable solution for 3D metal fabrication, whether you're looking to create prototypes or strong, functional parts.
On display alongside the SAAM machines will be a 3D printed trim tool that was created on CI's BAAM (Big Area Additive Manufacturing) machine. BAAM made its debut at IMTS 2014 with partners Oak Ridge National Labs and Local Motors, and the world's first 3D printed car drove off the showroom floor. Tooling applications have proven to be a good fit for additive manufacturing machines. Users have the ability to quickly, inexpensively and repeatedly produce a needed tool.