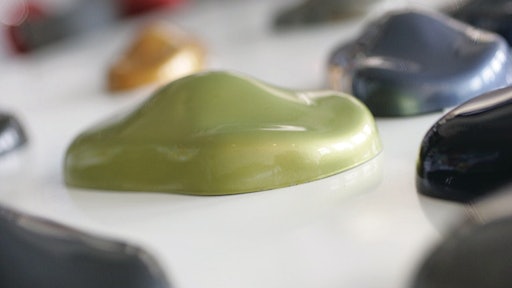 Whether it is liquid paint, powder coating or e-coating, all painting and coating methods invoke their own set of advantages and disadvantages that must be weighed according to the output desired by the equipment manufacturer. Taking into consideration health and environmental hazards, how the use of a particular coating will affect operations, investments, and of course the end result, appearance, paints and coatings are a lot more complex than just making your finished product look pretty.
The color green
Environmental demands have reached farther than just engine emissions and fluid leaks. Paints and coatings raise environmental concerns for volatile organic compounds (VOCs) and hazardous air pollutants (HAPs), which are emitted as gases from certain solids or liquids. According to the Environmental Protection Agency (EPA), "VOCs include a variety of chemicals, some of which may have short- and long-term adverse health effects. Concentrations of many VOCs are consistently higher indoors (up to ten times higher) than outdoors." Health affects can be as serious as damage to the liver, kidney, and central nervous system. OSHA has adopted a permissible exposure level of 0.75 ppm, and an action level of 0.5 ppm.
The European Directive 2004/42/EC regards emission limitations of VOCs of organic solvents in certain paints, varnishes and vehicle refinishing products. It was adopted in 2004 by the Council and European Parliament and contains limits on the maximum VOC content for various products as well as a labeling obligation for the products.
Which to choose?
Linda Cassil, market director - heavy equipment for Sherwin-Williams Co.'s Chemical Coatings Div., says, "typically, the type of component will dictate how the part is painted and with what. Parts that are large and heavy are difficult to bake; therefore, powder coating is not a good option. Liquid coating that can be air dried or force dried may be preferable."
Smaller components work well with powder coating, which is a single-step process so both primer and topcoat are not required, lending the process to be very cost-effective.
Liquid paints and coatings have changed a lot in just a few years, largely due to the environmental restrictions placed on the industry. With the added pressure, companies were forced to think outside of the box and come up with fresh and hazardless ways to make equipment shine.
Solvent based paints are high in VOCs making them unsafe for both the environment and operators, but waterborne applications are gaining interest, says Cassil. "Even five years ago, waterborne paints didn't offer the level of application and performance properties as solvent based paints. For example, most paint lines are not climate-controlled. It used to be that high humidity could wreak havoc with your paint line, but recent advances yielded high performing waterborne coatings with very strong performance, appearance and application properties."
Tim Klopfenstein, director of marketing for MetoKote Corp. says, that while he does see a movement away from wet paint applications due to environmental concerns, he does agree that there is a special place for liquid coatings for temperature sensitive parts. "Wet paint materials can air dry or cure in temperatures as low as 150 F. Thus, for temperature sensitive assemblies, wet paint is the solution."
The powder coating process sprays flour-like powder electrostatically onto a surface, or the substrate is dipped into a fluidized bed of suspended powder. The powders adhere to a preheated substrate surface in the fluidized bed process, or they adhere electrostatically in the spray process. When heated further in a curing oven, the particles flow and fuse into a strong, adhering coating. The result is a high quality coating with an attractive finish and excellent durability.
Electrostatic spray powder coating operations use collectors to reclaim over-spray. This reclaimed powder is then reused, adding significantly to the powder coating's high transfer efficiency. The fluidized bed powder coating method is used to apply heavy coats uniformly to complex shaped products in one dip. A high transfer efficiency results from little drag out and no dripping.
Another benefit of powder coatings is that they can produce a much thicker coating than conventional liquid coatings without running or sagging.
E-coating is a dip process in which the paint is electrically deposited from a low solids waterborne bath. There is about a 99% transfer efficiency virtually eliminating waste. "The coating used is not only waterborne, but the deposited film has a high solids content: there are virtually no VOCs and virtually no waste resulting from this process," says Cassil. "The downside of e-coating, however, is that it is a very capital-intensive process, and it's a bake finish. Typically, you need a metal temperature of 300 F to cure the paint. The paint itself only needs 3-4 minutes at that temperature to cure, but it could take anywhere from 20 minutes to 90 minutes to get the parts to temperature."
The cost of investment
"The pros and cons of different coatings and application methods are not necessarily dependent on the coating, but on how use of that coating will affect your operations. Whenever a new coating process is employed, it takes some time to tweak the entire process and move into full production," explains Cassil. "For example, when switching from solvent borne to waterborne coatings, the biggest challenge is looking at how the change will impact the entire finishing line and manufacturing process, such as switching from use of steel to stainless. Similarly, if you switch from liquid to powder, you are looking at a capital investment in an oven. If you move to e-coating you need to make an investment in the pretreatment, deposition and rinsing tanks and ovens."
Economically, waterborne coatings can have an advantage over powder coating. Depending on the paint system already in place, solvent based paint systems can be retrofitted to accommodate for waterborne paint, sometimes just by changing out a few nozzles on the existing spray equipment.
However, water, being a more corrosive liquid, could require replacing piping and valves with stainless-steel or other non-rusting material, making the transition much more costly. On the bright side, besides lower VOCs, waterborne coatings also feature lower flammability which lowers insurance costs, emits less odor, offers good gloss and color, and can be air- or force-dried. So, a switch from solvent to waterborne paint could also be seen as a long term investment that saves money over time.
Converting to a powder coat system can be expensive due to a large investment in specialized equipment. Powder, like e-coat, has to be baked, which means an investment in an oven. "Another potential downside is that powder coating is not as fast as applying liquid paint, so the overall productivity level is generally lower," explains Cassil. However, powder coating with reclaim does offer virtually no waste, which means fewer dollars wasted on unused material. If multiple colors are being sprayed in a single spray booth, the amount of powder able to be recycled may be limited.
Klopfenstein of MetoKote says it is harder to change out colors on a powder system. Though it is possible to change colors frequently with powder, there is a large capital consideration to change colors, and a volume large enough to support that capital is often necessary to justify the use of powder if multiple colors are part of the project.
Recently, John Deere installed a new paint line in its Saran plant in France that uses water-based paint technology. This project adheres to European Directive 2004/42/EC, the aim of which is to reduce the emission of volatile organic compounds. The paint used only contains 10% solvents, compared with 40% in the past.
The project required three years' worth of preparation and the involvement of the whole company — production, maintenance, product and manufacturing engineering departments — and represents a total investment of close to €5 million ($6.8 million).
Complying with current legislation and planning for future changes is only one aspect of the conversion. It also has ambitious aims such as improving quality criteria, production capacity and the user-friendliness of operator workstations, all at carefully controlled costs.
The basis of this project is a 15,000 sq. ft. facility which currently includes the following stations: surface preparation, a 65-ft. washing and pre-treatment tunnel, automated blowing and drying posts, a primer application booth, a robotized application booth which is likely to house a second robot in the future, a finish application booth, a baking furnace and a cooling tunnel.
At full capacity, this line will enable 445 engines to be painted each day in two teams, a significant increase which will lead to a production capacity in the range of 100,000 engines per year.
What's next?
The future of paints and coatings holds tighter environmental regulations, higher company expectations and more creative solutions. It has been predicted that eventually, with green manufacturing becoming a higher priority, HAPs will be eliminated from all applications. High VOC paints and coatings may not have a place for much longer. Cassil says that "in a perfect world, there would be no spray-applied liquid paint due to transfer efficiency and VOC issues. E-coating and powder coating would be used 100% of the time."
Dennis Winn, new products development manager, Elisha Technologies/Orscheln Products, agrees that environmental regulations will push the paints and coatings industry to reach farther than before. He believes increased regulations will force the industry to look for systems that are heavy-metal free and have no negative health or environmental impacts on employees or the community.
Klopfenstein sees "the [automotive market, truck and bus, and agricultural and construction] industries moving more to paint-before-assembly due to the robustness of the menu of coating materials from which they have to select. Further, equipment assemblies that do have temperature sensitivity, and can only be top-coated with wet paint, could have been previously e-coated as components, thus boosting overall performance of the assembled unit."
Winn further predicts that as "technology advances, there will be more work focused on reactive paints and coatings. Instead of only relying on physical bonds between coating and substrate, a coating that chemically bonds to a substrate will have distinct advantages. Further work in nanotechnology could have tremendous impact on the coatings industry."
There are answers out in the industry already. Cortec Corp. has introduced a biodegradable powder able to be applied in both liquid and powder form. The powder creates a monomolecular inhibiting layer on the metal surface providing protection from wet or dry corrosion.
Battelle, a non-profit independent research and development organization, has already started work on chemical intermediates called polyols used primarily for the production of various types of coatings and composites. Currently all polyols are derived from petroleum-based feedstock, but the Battelle-developed bio-based polyols are derived from soybean oil and other vegetable oils — which are renewable resources — and low-cost glycerin.
In the automotive industry, Durakon (thermoforms producer) and Soliant (Soliant Fluorex paint film producer) have come up with cost-effective high-volume thermoformed paint film parts. According to Durakon and Soliant, paint film allows automakers to get a Class A finish while receiving more wear and chip resistance and durability than regular paint.
Whether it's a fresh look on an old system or a new system all together, one thing for certain is that there are going to be changes made in the painting industry. Manufacturers have research to do as to which system they will invest in, whether it is an investment in an outsourced service or an investment in an in-house paint system. There is a lot more to consider nowadays than which color to paint the equipment.

Companies in this article