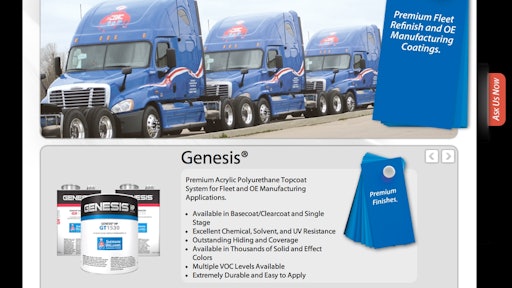 Sherwin-Williams Automotive Finishes has launched a new, informative website to assist both fleet refinishers and manufacturers of original equipment with information, specification or application and training guidelines about the latest in coatings and finishes. It can be accessed by clicking on http://genesis.sherwin-automotive.com/home/.
The new website is one of the most detailed in the fleet refinish and manufacturing industry; it is easy to maneuver and provides more connectivity for visitors. Users will find its clean appearance extremely intuitive to navigate as it allows them to directly search by their specific application (overall refinish, scratch repair, primed parts, etc.), by coating system (Sherwin-Williams Genesis G4, HP, LV, GC, or G2 system) or even by specific products (i.e. primers).
"We continually survey the industry and recently found that more than 34% of industry professionals use manufacturer websites to get information on new fleet products and services," says Joseph Krebs, Director of Marketing, Commercial Segments, Sherwin-Williams Automotive Finishes. "This new site is easy to use and allows users to see firsthand how our Genesis primers and topcoats offer outstanding performance and appearance. These products deliver productivity and profitability and are a complete solution for their fleet and manufacturing needs."
"In addition, the new site provides more extensive application, color and training data for our audience. This includes providing information and regulatory documents that are easily available," he adds.  
Extensive product features on the new site include:    
Genesis HP Premium Single-Stage is a two-component urethane topcoat featuring new technology to provide quicker process times with no baking required. This allows OEMs and fleet repair shops to turn down the heat to increase energy savings and improve production times. With Genesis HP, paint shops can go from prime to finished product up to 65% faster and save more than 75% on energy costs related to the paint process. 
Genesis LV Single-Stage System is designed specifically for premium fleet refinishing and OE manufacturing for a wide variety of vehicles including utility, light rail, buses and public transportation and ground support while providing 2.0 VOC or lower. Featuring excellent hiding properties, this two-component urethane coating system uses two new mixing clears (GT1510 and GT1511) with simple mix ratios to reach multiple gloss levels (flat, satin, semi-gloss, and gloss).
Genesis G4 Basecoat System is formulated for outstanding performance and enhanced color match capability, including OEM colors for fleets, trucks, specialty vehicles and manufacturing equipment. It is a premium-quality, two-component, 3.5 lbs. per gallon VOC-compliant urethane basecoat that delivers excellent appearance with durability and superior flexibility. It features fast dry times resulting in more rapid paint production for painters to complete more vehicles.
Genesis G2 High Quality Single Stage topcoat is designed for high production manufacturing. It is available in 2.8 and 3.5 lbs. per gallon VOC levels, features either air-dry or baking capabilities, and offers excellent flow and leveling. In addition, it is sag resistant, provides superior gloss and durability, and is available in solid and metallic colors.
Genesis GC Premium Single Stage topcoat also offers superior gloss and durability at the 3.5 lbs. per gallon VOC level with either air-dry or baking capabilities. Like other members of the Genesis system family, it features superior gloss and durability, is available in solid and metallic colors, and also provides excellent hiding and outstanding graffiti resistant properties.