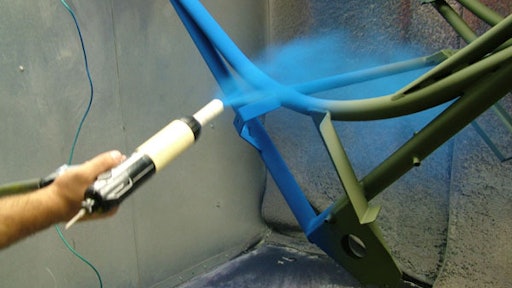 In early December 2012, PPG Industries Inc. (company information, 10210153), Pittsburgh, PA, received a grant from the federal government's Strategic Environmental Research and Development Program (SERDP) to develop a chemical-agent resistant powder topcoat for use on military vehicles and equipment (learn more, 10847804).
According to Larry Fitzgerald, Senior Scientist at PPG, the military has been looking for ways to utilize more environmentally-friendly coatings for its equipment. Powder coatings are of particular interest because they are not solvent based and therefore emit no volatile organic compounds (VOC), which can have harmful effects on the environment and the people applying the coatings. Using low-VOC coatings would enable the military to reduce its carbon footprint as well as protect the health of those applying the coating.
So far, the use of powder coatings in the military has been limited to interior applications and some primers, says Fitzgerald. This is due in part to the lack of powder coatings available which meet the requirements of chemical-agent resistant coatings (CARC). Development of a CARC powder topcoat, however, would enable the military to expand its use of more environmentally friendly coatings without losing the ability to protect its soldiers in the field.
Chemical agent resistance
In order for a coating to be considered chemical-agent resistant, it must be able to withstand exposure to chemical agents as well as the neutralizing agents that are used to clean up chemical agents in the event of exposure. "That's the way chemical-agent resistance is managed right now," says Fitzgerald. "[It has to be] an effective barrier and have the ability to be cleaned up afterwards."
To determine whether a coating will meet these criteria, samples must be sent to the U.S. Army Research Laboratory (ARL) where they will be exposed to a variety of live chemical agents. Coatings which are able to withstand exposure to all of the chemical agents used in the test, as well as decontamination solutions, are classified as chemical-agent resistant.
Meeting camouflage requirements is also an important element to the design of a CARC, particularly one that will be used on the exterior of a vehicle such as a topcoat. A camouflage coating is one that has a low gloss so that it will not be shiny and easily seen in the light. CARC topcoats must also be resistant to ultraviolet (UV) rays from the sun and durable enough to withstand a variety of harsh operating environments. "You put all those things together [and] you have a significant formulation challenge to be durable, and meet camouflage and chemical-agent resistance requirements," says Fitzgerald. He adds that there are other necessary criteria, such as proper adhesion, "but those are the three major requirements that make it very difficult for powder coatings to meet the challenge that the army's looking for."
Coating development
PPG has been making powder coatings for several years and is bringing that expertise to the development of the chemical-agent resistant powder topcoat. "We've developed some manufacturing techniques that are unique to how we make some of the powders we sell that we think will help our efforts," says Fitzgerald.
The company has also invested in high-throughput screening (HTS) techniques to help speed up the development of new polymers. HTS is a robotic system which enables researchers to quickly execute several chemical tests at a time to more easily narrow down the correct formula for a product such as a coating. "Polymers are the major component of the coatings," says Fitzgerald, "and [with HTS] we have the capability of producing new polymers at a rate that's about 10 times faster than if you do it by hand."
Though PPG is still in the early development stages for its chemical-agent resistant powder topcoat, the company is hoping to have a finished product available soon. And once it does, PPG sees the coating being beneficial to industries other than the military, as well. "The one part of the coating that will allow the chemical agent resistance is general chemical resistance," says Fitzgerald. "We'll have identified powder coatings that have a very high chemical resistance and there are other applications that would value that."
Companies in this article