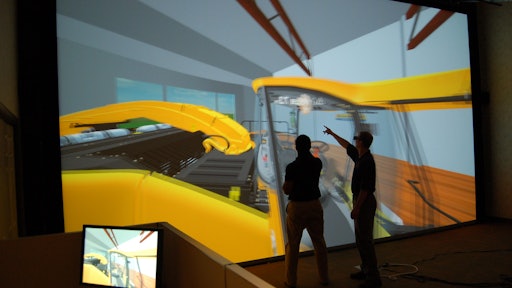 The European Commission recently placed a new provision into its Framework Regulation for Agricultural Vehicles (Regulation 167/2013) which allows the use of virtual tests during the authorization process of agricultural equipment in the European Union (EU). Currently, only continuous or interrupted rollovers during lateral overturning of a narrow track tractor with a protective frame mounted in front of the driver's seat is included in the list of requirements that can make use of virtual testing to replace physical testing.
CEMA - the European Committee of Associations of Manufacturers of Agricultural Machinery – has stated its support of the new provision, but believes the list of virtual tests available should be expanded. It is in the process of selecting the most suitable requirements and developing proposals with technical specifications that will explain how legislation can be adjusted to include a wider variety of virtual tests for agricultural equipment. "In our view, developing proposals for increased use of virtual tests will help to minimize errors and reduce development time and costs, thus supporting innovation in the agricultural machinery sector," says Ivo Hostens, Technical Director of CEMA.
Virtual testing for dimensional checks, such as field of vision and exterior projections, and strength simulations including roll-over protective structure (ROPS) tests currently exist, says Hostens, but are typically used only for design optimization purposes. They enable manufacturers to test a product to failure without worrying about destroying a costly physical prototype, as well as run through numerous worst-case scenarios before determining a final product design. If these types of virtual tests were allowed for machine authorization, as well, manufacturers could further reduce the number of prototypes they create, saving time and money. Hostens adds there already exists an accurate full ROPS virtual test for buses under UN ECE Regulation 66.
The acceptance of virtual tests will be dependent upon how well the technical content is defined and how solid the validation tests are, says Hostens. CEMA will have to demonstrate to technical services and approval authorities the accuracy and reliability of the models being used in the virtual tests in order for them to be used in place of physical tests. He says that while for some tests it will be easy to demonstrate the virtual test is more accurate than the physical, others will be more difficult. "An important point to keep in mind is that although most of the technical content can be fixed in legislation, the acceptance criteria need to be defined and agreed upon with the respective technical services and approval authorities. In addition to the technical provisions for the simulations, it might be necessary to find some harmonized approval procedures."
At the moment, CEMA is still assessing which areas of virtual testing to propose based on which ones will provide the most meaningful role and value for manufacturers. Suitable tests will not only have to offer a high value-add to manufacturers, but also ease of drafting content and have a high possibility of acceptance. Once a shortlist of requirements and their tests has been assembled, Hostens says a select group will be used to start a pilot project for 2015-2016. "The lessons learned from the pilot [test] will then be used to gradually extend the list of virtual testing in the new EU approval legislation," he explains.
CEMA is coordinating the proposal process, and working directly with manufacturers in the agricultural industry. Hostens says a dedicated project team has been established which is led by Giuseppe Cordua from Iveco and supported by Stefano Pagliarani from FederUnacoma. CEMA has yet to begin discussions with the European Commission, but anticipates a first proposal to be ready by early 2016.