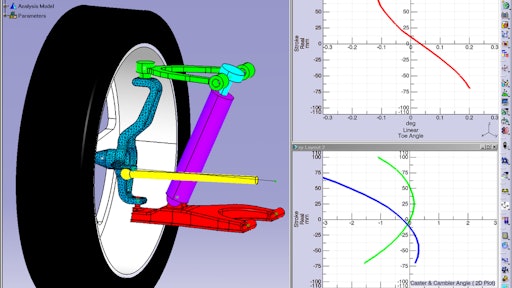 LMS, which was recently acquired by Siemens and is now a business segment within Siemens PLM Software, announces the latest release of its LMS 3D solutions for real world simulation, LMS Virtual.Lab Rev 12 and SAMCEF Rev 15. Both software releases use innovative technology to simulate real-world behavior for faster, more realistic and easier product design.
"The current releases are another testimony to our commitment to realistic 3D simulation solutions. They are easier-to-use, feature faster performance and incorporate several innovative solutions for non-linear analysis of acoustics and mechanisms, including composite materials. The software introduces several dedicated solutions for the automotive, aerospace and wind energy industry as well," states Nick Tzannetakis, Vice President of LMS 3D Simulation Product Architecture. "As a whole, the LMS 3D simulation solutions are an excellent way to handle the ever-increasing complexity of products today. It is an extremely exciting time for the world of simulation."
Tailored to industry requirements
Every LMS 3D simulation solution can be tailored to precise industry and application requirements in areas such as acoustics and vibration, mechanisms, automotive and aerospace simulation process integration, structural analysis and wind turbine development. The latest releases of the two core LMS 3D simulation software suites, LMS Virtual.Lab and SAMCEF including CAESAM, address several of the industries' most pressing engineering challenges.
Speed and accuracy when it truly matters
Built on more than 30 years of proven solver technology, the LMS Virtual.Lab Motion Real-Time Solver uses a parallel solution approach for multi-core solving. Fast and accurate, the LMS Virtual.Lab Motion Real-Time Solver for full-vehicle driving dynamics complemented by the LMS Imagine.Lab AMESim Real-Time Solver or subsystem modeling lets users handle complex real-time 3D-1D models such as those used in hardware-in-the-loop (HiL) applications and realistic driving simulators.
Easy-to-customize driving dynamics templates
LMS Virtual.Lab Rev 12 places a huge emphasis on usability, including more openness and an efficient-to-use and especially easy-to-customize driving dynamics solution in LMS Virtual.Lab Motion for Vehicle Dynamics. Since it is template-based, users can efficiently manage multiple vehicle variants and simulation scenarios error-free with minimal data entry.
New high-speed FEMAO solver for acoustics
Acoustics innovation has always been a focus for LMS. This continues with LMS Virtual.Lab Rev 12. The new frequency-adaptive patent-pending FEMAO solver significantly improves calculation speeds for acoustic simulation for low to high frequency applications like pass-by noise and encapsulation design. A complete vehicle full-frequency pass-by-noise simulation can now be achieved in hours rather than days.
More power for massive models
The latest SAMCEF Rev 15 release contains more technology to solve large-scale finite element models, including massive models with millions of degrees of freedom, and a complete flexible non-linear analysis solution including massive parallel solving and enhanced post-processing features. SAMCEF Wind Turbines Rev 15 specifically incorporates reference nodes for better comprehensive moving frame analysis for wind turbine applications as well as unique offshore simulation capability that includes wave loading influence on the overall wind turbine performance.