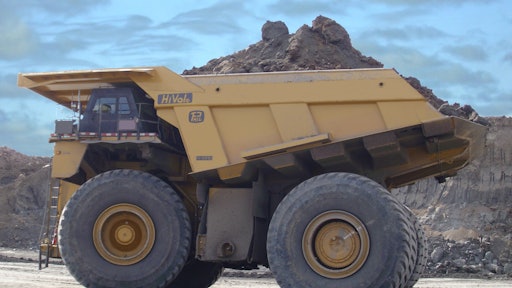 Philippi-Hagenbuch, Inc.
To reduce expenses, every mine plays its own game of give and take. Equipment selection, especially with the beating that mine equipment takes, is a large part of cost considerations. When selecting a truck body, finding ways to balance longevity and productivity creates a challenge.
For addressing cost, selecting a heavier, durable truck body provides years of low-maintenance operation. Heavy-duty units also tend to be heavy. This extra weight reduces the amount of material that can be hauled by the vehicle. Heavy-duty units also have an initial high price.
In contrast, an emphasis on increased hauling capacity and higher productivity from a lighter weight body provides another option. These units are lower priced but often wear out quickly. Vehicle failures lead to downtime with lost production and a need for repairs or replacements.
Even mines seeking a middle ground are challenged with an off-the-shelf truck body that may not maximize the mine's potential. An option that provides a sustainable solution to the productivity dilemma is a custom-designed truck body, manufactured to meet the specific challenges of the individual mine.
Focus on the Mine
Before mine managers research truck body features, they need to examine their mine. Each mine environment is different and needs specified equipment. Does a humid environment cause issues with carryback? Do the trucks haul corrosive materials? When dumped, do materials need to exit slowly?
These questions lay the groundwork for decisions. Working with a custom equipment manufacturer adds benefit. These manufacturers work in tandem with mine managers to analyze specific requirements while offering an objective and experienced eye to suggest considering often overlooked details.
Important options that can maximize effectiveness in a mine go beyond add-ons like sideboards and floor liners. The truck body's design, material make-up and other factors should be discussed with a custom manufacturer to select the ideal body for the mine and ensure that strong bones make it up. With the groundwork in place, mine managers can look for the features that will ensure that they get a functional, efficient and durable truck body.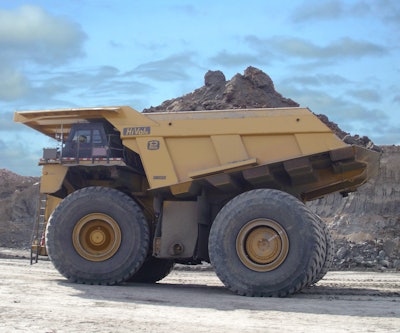 Body Basics
No matter the skill level, operators may not be able to avoid damaging many standard or off-the-shelf truck bodies. Damage often occurs when the loading tool contacts or bumps the truck body while filling. What causes this contact? The truck body may be too small. It may be mismatched with the loading tools, or the body may not have the proper height. Regardless of the cause, repeated damage during loading can quickly destroy a body, causing expensive maintenance and repair issues on the truck.
Customizing truck bodies to the mine's specifications increases loading safety and reduces the potential for loading damage by ensuring that the width is correctly paired with the loading tool. This provides the lowest possible loading height and allows the shovel bucket to get closer to the truck body floor. This feature nearly eliminates the chance that the loading equipment will damage the truck's sides. It also simultaneously reduces the whole-body vibration associated with mass dumping. A wide-body option offers well-balanced weight distribution across all the tires, which minimizes the potential for uneven tire wear and extends the truck components' and body's lives.
With heavy use and high reliability required in mining applications, maintenance is inevitable. Simple design considerations in the body improves reliability. They can either speed the maintenance process or decrease issues and/or the need for maintenance.
Adding four free-floating lifting eyes into the floor of the body rather than the sides is one example. This enables fast and easy removal or installation of a body for maintenance without the risk of bowing the body, a common issue with lifting points incorporated on the sides. As body sides age, traditional lifting points integrated into them, such as pivots and holes, can become fatigued. This weakening risks a potential safety situation when removing or installing a body down the road.
Bolsters and frame rails provide maximum reinforcement to the sides and floors of bodies. Traditional bodies simply have butt-welded bolsters to frame rails, making them vulnerable to wear and tear. Bodies with intersecting bolsters and frame rails offer superior support that won't buckle under the immense stress of materials, keeping the payload at maximum capacity.
A truck body with these design features has good bones. A well-designed body can be customized and refurbished to find the sweet spot for handling the daily abuse of the mine while maintaining productivity. With supply chain issues and a volatile steel market, the custom manufacturer must also use the best steel throughout the body. It must also ensure that parts and materials are available and made in-house. Checking all these boxes provides mine managers with a solid base to expand on with other truck body options that can further streamline operations, like rear eject bodies.
Rear Eject Bodies
Rear eject bodies offer an efficient, low-maintenance alternative to end-dump trucks for smaller, niche areas within a mine. As the name implies, rear eject bodies use an ejector blade to discharge material. Without moving or raising the truck bed, the blade pushes material toward the rear of the truck. This simplifies the dumping process and enhances efficiency since operators don't have to wait for the bed to lower before driving away.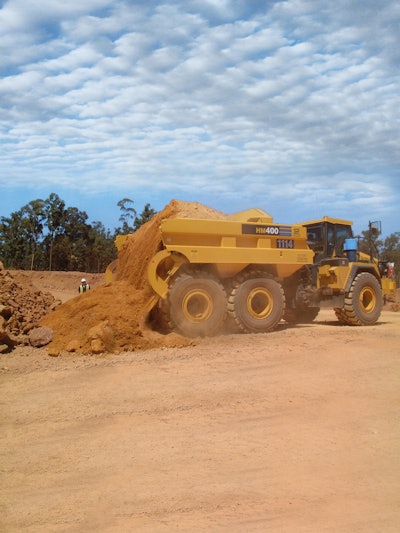 When selecting a rear eject body, less is more. Rear eject bodies with a single hydraulic cylinder that operates the ejector blade and the rear tailgate mechanism at the same time minimize maintenance costs and maximize uptime. Selecting a body with ejector guides inside the truck bed delivers smooth operation and decreases overall maintenance requirements. They eliminate rollers that often break or bind. With the guides and track within the bed, no external rails can be hit by loader operators, which can disable a unit until costly repairs are made.
Some rear eject bodies feature designs tailored to reduce carryback. The natural, sweeping action of the ejector blade reduces the chance for carryback, even with materials prone to sticking to the sides or floor of the truck bed. However, certain conditions, such as a humid, sticky environment, present even greater challenges. In these instances, a manufacturer can work with mine managers to add exotic steel liners to the ejector blade to deter sticking and further ensure no carryback.
Integrating a rear eject body into a truck has obvious benefits for dumping. However, these bodies can also be fitted with add-on attachments that further increase the flexibility and utility value of the specialty body in the mine.
Spreading
In some applications, materials must be evenly and precisely distributed. By safely controlling the dumping rate and pairing it with a material spreading attachment, rear eject trucks can increase efficiency in these tasks. They are ideal for applications such as haul road maintenance or certain drying applications, such as spreading salt, diatomaceous earth or lime onto leach beds.
Material spreading attachments are available from custom equipment manufacturers and are designed to integrate seamlessly with the rear eject bodies. Spreading attachments can handle a wide range of material—from very fine to 2-inch-minus-sized material. Also, the spread width can be adjusted from approximately 5 feet to 60 feet or more (1.2 meters to 18.2 meters). In addition to hauling and road maintenance, it can also help spread grit for traction on icy roads.
Stemming
Many mining operations rely on side-dump buckets or loaders to fill blastholes with stemming material after the explosives are packed in the bottom. Stemming can be time-consuming, but an attachment can transform productivity and increase rear eject versatility. Opting for a rear eject body with a stemming attachment, however, can greatly improve efficiency.
For example, using a single 3-ton loader, operators might only be able to fill two holes per load before traveling back to aggregate piles for more material. Depending on how close the stockpile is, this can result in cycle times of 15 minutes or more. With each blast averaging 100 or more holes, filling the blastholes with stemming material often takes two to four crew members several days. This can create a significant drain on productivity.
Alternatively, similar work with a rear eject body with a stemming attachment on a 40-ton articulated truck would be streamlined. An increase in efficiency of 200% or more would be realized with a rear eject body and stemming attachment when compared to traditional methods.
The stemming attachments incorporate into the rear eject body, offering an adjustable arm that can easily be positioned over the stemming hole to precisely deposit material in less time and with minimal labor. The ejector blade pushes material to a cross auger, which loads the articulating stemming arm and conveyor. The ejector blade speed, in-cab controls, stemming conveyor and operator controls at the stemming arm all precisely control the flow of material for even distribution.
Water Tanks
In addition to truck bodies, water tank selection provides an excellent opportunity for improvement. Though they may seem basic, water tanks are crucial for many tasks including dust suppression and firefighting. Traditional round water tanks limit productivity and increase costs. Round tanks often have high sides, which result in a poor center of gravity that can lead to tipping. Instability is worsened by a baffling system that incorporates open maintenance access cutouts. This system may lead to poor water compartmentalization and excessive water churn.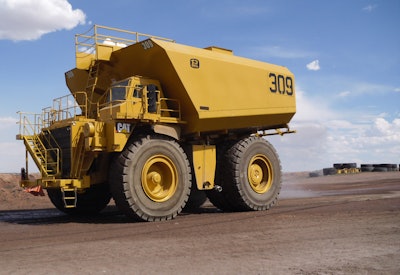 Because of safety concerns and instability in water trucks, operators may not completely fill the tank, leading to less efficiency and more trips for refills. To combat this, mine managers should specify a square tank that addresses these issues from the ground up. The squared corners and a more sophisticated baffling system can prevent water surges between compartments. The baffling system also has doors instead of cutouts, which allows easier access for maintenance. Not rounding the sides also allows for a higher storage capacity, so drivers can be more efficient with their trips.
Lasting Solutions
Mine managers want their mines to operate at their full potential, and that usually rides on the back of a haul truck. By laying the groundwork and incorporating the assistance of a custom manufacturer, mine managers can include their wants and needs into their unique operation instead of working with off-the-shelf options.
Josh Swank is vice president of sales and marketing for Philippi-Hagenbuch, Inc.