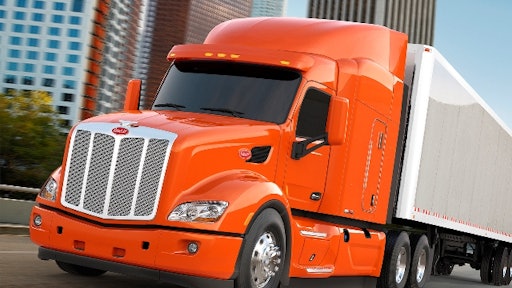 Peterbilt Motors Company showcased its latest fuel efficiency innovations during the Mid-America Trucking Show with its Model 579 EPIQ, an aerodynamically optimized and technologically advanced vehicle that can improve fuel efficiency by up to 14%.
"The Model 579 EPIQ is revolutionizing the industry with its aerodynamic efficiency, optimized powertrain and innovative fuel-saving technologies," says Darrin Siver, Peterbilt General Manager and PACCAR Vice President. "Since introducing the EPIQ fuel economy package last year, we have been successful in engineering even more miles per gallon through precise aerodynamic refinements."
Peterbilt engineers incorporated design elements from the SuperTruck, which achieved 10.7 miles per gallon after extensive field testing, to reach the 14% gain possible with the new Model 579 EPIQ.
EPIQ includes APEX, an optimized drivetrain that pairs the PACCAR MX-13 Engine with the Fuller Advantage Automated Transmission. "The MX-13 is an industry leader in fuel efficiency, performance and reliability. We developed proprietary control logic that provides precise communication between the MX-13 and the Advantage transmission for a fully integrated powertrain that delivers superior fuel economy," says Scott Newhouse, Peterbilt Chief Engineer.
The Model 579 EPIQ includes numerous aerodynamic enhancements that Newhouse says were developed through CFD (computational fluid dynamics), wind tunnel testing and thousands of miles of on-the-road validation.
Among the newest elements of EPIQ are:
A roof fairing bridge that reduces the gap between truck and trailer;
Enhanced chassis fairings that minimize the opening in front of the tandem axle;
Rubber wheel closeouts on the front axle;
A durable bumper dam that reduces aerodynamic lift and drag; and
A bumper-to-hood seal that redirects air around the truck.
Other fairings included in EPIQ are 18-inch sleeper side extenders with 8-inch rubber flares; rubber skirting along the chassis fairing from the quarter fender to the front of the tandem axle with rubber closeouts under the sides of the cab and sleeper; and roof fairings with an exclusive rear wall closeout. Aerodynamically enhanced components include a three-piece aero-style bumper; multi-piece aero-style hood; painted outside sun visor; and an aero-style aluminum battery box positioned on the passenger side, under the cab.
"The Model 579 is the most aerodynamic truck in Peterbilt's 75-year history and when configured with the EPIQ package, it takes fuel economy to even greater levels," says Siver. "The Model 579 EPIQ makes a significant difference to our customers' bottom lines."
Other components and technologies utilized with the Model 579 EPIQ are:
The SmartTire Tire Pressure Monitoring System that provides operators with real-time tire pressure and temperature information;
Low rolling resistance tires that minimize friction between tires and the road; and
Optimized spec'ing software used by Peterbilt and its dealer network to help customers fully realize the benefits of EPIQ by recommending the most fuel efficient rear axle ratios and engine settings, among other options.