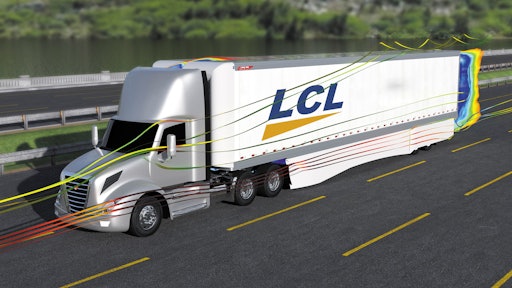 WABCO, a leading global supplier of technologies that improve the safety, efficiency and connectivity of commercial vehicles, announces that it has acquired Laydon Composites Ltd. (LCL), a manufacturer of aerodynamic devices for heavy-duty trucks and trailers. LCL generated revenues of approximately CAD$25 million in 2015 and is headquartered in Oakville, Ontario, Canada. Building on more than 30 years of experience, LCL was previously privately owned and operated.
Through the acquisition, WABCO is the only supplier that provides a full range of aerodynamic devices for commercial vehicles worldwide. Aerodynamic products reduce air drag of commercial trucks traveling long distances at highway speeds, thereby lowering fuel consumption and CO2 emissions. Aerodynamic devices help commercial vehicle fleet operators to improve their operational efficiency and environmental performance.
The acquisition creates attractive growth opportunities for both companies. WABCO's strong global presence provides customers worldwide with increased access to LCL products; likewise, WABCO expands its market access to North America through LCL's sales network and customer relationships in the region. Both companies have similar organizational cultures characterized by world-class engineering expertise and excellence in execution.
"We are thrilled to welcome LCL to the WABCO family," says Nick Rens, WABCO President, Trailer, Aftermarket and Off-Highway Division. "Both WABCO and LCL are companies that are driven by groundbreaking ideas in aerodynamics for commercial vehicles, and through innovative technologies, expertise and excellence in execution grew to become industry leaders. Together, we offer commercial vehicle fleets in international markets the most comprehensive portfolio of aerodynamic products to help them improve operating efficiency and comply with stringent environmental regulations."
"Joining WABCO is a tremendous opportunity for LCL, its customers and employees," says Brian P. Layfield, LCL President. "Both companies have a proud history of industry firsts. Together, we are poised to drive further technology innovation in aerodynamics for fleet customers worldwide."
WABCO and LCL combined provide a comprehensive portfolio of aerodynamic devices for heavy-duty trucks and trailers for markets worldwide. LCL pioneered and continues to advance aerodynamic technology that is standard equipment on leading brands of heavy-duty trucks in North America. The company's collapsible air fairings improve air flow over tractor cabs, reducing fuel usage as much as 12%. For trailers, LCL's patented, SmartWay Elite certified Trailerskirt and nose fairings reduce air drag for a combined 9% fuel savings and lower CO2 emissions.
A leading supplier of innovative aerodynamic technologies for commercial vehicles, WABCO offers OptiFlow SideWings for trailers in Europe. Its leading design and construction enables long-haul fuel savings of up to 5% and reduction of CO2 emissions by as much as 3.8 tons per semi-trailer per year. In addition, the company's OptiFlow Tail, an aerodynamic solution for the rear of a semi-trailer, generates fuel savings of up to 1.1 liter per 100 km (4.7 gal. per 1,000 miles) at highway speeds. These fuel savings help fleet operators in Europe to lower CO2 emissions from tractor-trailers by up to 2.8 tons annually.