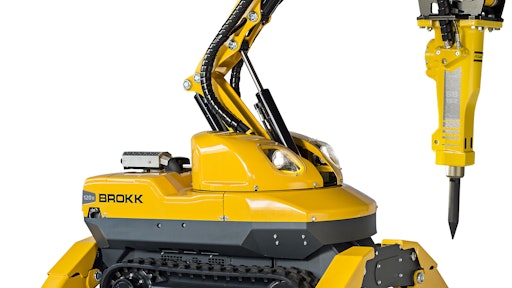 Brokk, the world's leading manufacturer of remote-controlled demolition machines, introduces the smallest diesel-powered demolition robot, the Brokk 120 D. The new machine weighs less than one-fourth of the Brokk 400 Diesel. Its 6-gal. fuel tank and efficient operation allow run times longer than 8 hours before refueling.
"We developed the Brokk 120 D based on the needs communicated to us by our customers facing especially challenging situations, where they need a very compact machine that is completely independent from a fixed power source. We are convinced that this new model will bring great value to a variety of difficult applications," says Martin Krupicka, CEO of Brokk AB.
The Brokk 120 D's compact size — 31 in. wide, 80 in. long and 49 in. high — enables it to pass through any standard door opening as well as maneuver in tight spaces. Meanwhile, its light weight — about 2,700 lbs. — allows it to drive over weight-restricted floors and helps make it easy to transport to and from sites.
Powered by a compact and efficient diesel engine, the Brokk 120 D can run a full shift independent from any power source. This flexibility comes without sacrificing any of the power and performance of its similar-sized electric-powered sibling, the Brokk 100. Plus, the Brokk 120 D uses the same attachments and generates the same hydraulic power as the Brokk 100, increasing its versatility.
Brokk designed the Brokk 120 D for a variety of applications. It fulfills emergency response needs for search-and-rescue efforts, explosive ordinance disposal and firefighting. It's suited for use in the nuclear industry due to its compact size and power. The construction industry can benefit from its easy transport, diversity of attachments, and light weight that make it ideal for a variety of jobs, including demolition and cutting. The B120 D also fits well in the process and underground industries, where use of a power cable can be inconvenient or inadvisable.
The Brokk 120 D is the third, and smallest, diesel-powered machine in Brokk's lineup. The Brokk 400 Diesel and Brokk 800 Diesel have been available for several years, but are significantly larger than the Brokk 120 D.