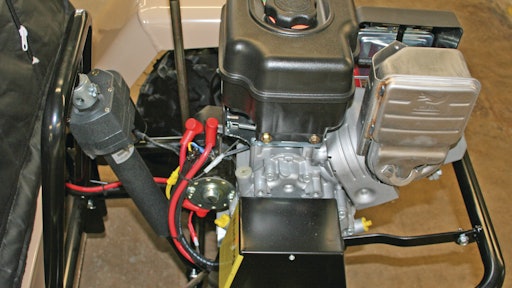 The Saturday morning when I visited a boat dealer near Madison, WI, it was 32 degrees warmer than it had been the day before. However, the welcomed heat wave — it climbed to 10 F just before noon — wasn't enough to reverse the effect cold weather had on area rivers and lakes.
The dealer, Inland Boat Works in Monona, started in the 1940s as a manufacturer of wooden power boats. It was making fiberglass boats when production ended in the early 1970s. Today, Inland sells new boats and accessories from the same location. Down the ramp from Inland's service shop, housed in a restored Quonset hut, the Yahara River still flows between Lake Monona and Lake Waubesa, but because it's January it does so under ice and snow.
Boat sales can be slow during Wisconsin's winter months. This year, Inland has something new advertised on area billboards. The dealer is attracting serious fisherman who aren't going to let several inches of ice lay between them and quality time on the lake.
Parked in the showroom among brightly colored boats is the Wilcraft amphibious ice fishing vessel. A combination of an ATV and a jon boat, the Wilcraft was designed for a specific purpose. But as often happens when brand-new machines are in the hands of end users, its creator and its dealers are discovering that its usefulness will not be limited to fishing trips on frozen lakes.
Necessity, mother of invention
Tom Roering, president of Wilcraft manufacturer Multifarious Inc., is an avid ice fisherman living near Minnesota's Twin Cities. In 1998, his permanent ice house was falling apart. He wanted to replace it with something that would be more mobile and help keep his young kids safe while on the ice.
"I wanted a lightweight machine in order to extend the ice fishing season," says Roering. "But, over a few years, it evolved into a self-contained ice-fishing vehicle complete with retractable wheels and a pop-up enclosure."
The first machines were built for family use. But as the concept evolved and other sportsmen saw Roering's machine, he decided to become a manufacturer, in addition to working as a floor installer. A production prototype was unveiled in 2004. The concept was awarded a patent in February 2008.
The first few weeks of the season — "first ice" — is the best time for angling. As winter wears on, the oxygen level in the water declines. Walleyes and other fish become sluggish and descend to deeper levels where some oxygen remains.
Early ice is also dangerous; the local newspaper often covers the season opener when a snowmobile breaks through the thin veneer of frozen water.
Smart anglers never assume the ice is safe, regardless of the date. "Safety was the focus of the project early on," says Roering. "The Wilcraft floats — it's not just buoyant. When it's in the water, it is like being in a boat."
Exerting ground pressure less than that of a fully ladened walking fisherman, the Wilcraft can safely traverse early ice. If the ice collapses underneath, not only does the Wilcraft float, its design helps it safely return to the ice.
In late February and March, good fishing returns to the frozen lakes. Walleyes become more active and aggressive when they sense spawning is a few weeks away. "Later in the season, particularly in large bodies of water, the shoreline melts first," says Mike Locke, a sales representative at Inland Boat Works. "The thicker ice out on the ice is still safe, so you need planks to cross on foot or with a four-wheeler. With the Wilcraft you can go right across the open water."
Watch the Amphibious Ice Fishing video to see a demo of the Wilcraft machine.

Roering's first amphibious ice fishing vehicle started life as a 12-ft. Alumacraft jon boat. The jon boat's family traits can still be seen in the 2009 Wilcraft, although the powder-coated aluminum hull is purpose-built for the application.
"Our engineer is very thorough, and the parts are built strong," says Roering. Fabrication of the Wilcraft is outsourced while his crew assembles each Wilcraft in Maplewood, MN.
There were a few challenges in designing a machine that was going to get wet in very cold temperatures. It had to be dependable. "We did a lot of testing with different components," says Roering. "We put synthetic lubricant in the transaxle and tried a number of engines. The Briggs Intek engine was an amazing cold-weather starter right out of the box."
The standard Wilcraft engine is an 8 hp Briggs & Stratton Intek I/C, while a 10 hp 305cc unit is optional.
On the move in all terrain
As Roering worked on the ultimate family fishing rig, he experimented with four- and six-wheel-drive versions. He arrived at a belt-driven rear-wheel-drive arrangement utilizing a Peerless two-speed gear box and locking differential. Although prospective buyers might question the capabilities of an all-terrain vehicle with rear-wheel-drive, Wilcraft users agree that the design, including its light weight (500 lbs.) and retractable wheels, makes for a highly capable machine.
Mobility is key when fishing, whether it's on ice or water. When the fish aren't biting it's time to move to a different part of the lake to find the schools. It's a fishing technique permanent ice houses severely restrict.
"With the Wilcraft I have a four-wheeler with floats [to make recovery easier, floats are required on all four-wheelers driven onto Madison-area lakes] and a tent all in one," says Locke. "If its hard to move to a new spot, I'm probably not going to leave. With the Wilcraft I can fish for five minutes and then move across the lake and try again. The Wilcraft is self-contained. Once you pull in the fishing poles and raise the hull, you're ready to go."
The Wilcraft sits directly on the ice when fishing through three 10 in. dia. holes on the right (starboard) side of the machine. Buckets double as corks to keep the hull water-tight when moving across the lake.
Raising and lowering the vehicle is performed with 12-volt Warner Linear actuators front and back, each rated for bitterly cold temperatures. An on-board battery supplies power when the engine is off.
Before setting off across the lake, actuators lift the craft's hull up to 11 in. off the ice. It can travel at any height. When traversing thin ice, the hull can be lowered to within a few inches of the surface. In the event the ice breaks, the load will be more evenly distributed, helping to prevent a dramatic splash down.
The retractable wheels make it easier to climb back onto the ice. Once floating in the cold water, the technique is to retract the rear wheels, power up to the ice, and with the push of a pole to keep the tires in contact with the slippery surface, while in reverse, the Wilcraft will pull itself back onto the ice.
Propulsion in the water comes from the rear tires, which slowly moves the craft along. "Guys who use it in open water for duck hunting will put a trolling motor on it, or use a pole to push it through marginal areas."
New products = new business
The Wilcraft dealer network is still small. Including Inland, there are two dealers in Wisconsin and others in Minnesota and Ohio.
Carrying the Wilcraft line has been fun, says Locke. "We took it out to a local bar on the lake and the place emptied. Everyone wanted to see it. The interest in the Wilcraft is just phenomenal."
Locke sees the appeal of the machine going beyond ice fishermen, even in the winter. "It's great if you live on the lake and just want to drive across for dinner. You can take the wife, and you're not going to get hurt, drown, or freeze."
As Roering takes the machine to outdoor-sports shows and other venues, he is also discovering that its potential is not limited to recreational activities. At the request of first responders, he recently introduced an ice-rescue vehicle.
Rescuers don't need the three holes or the canopy, which reduces the weight by 100 lbs. Because it can be pulled like a sled, a few guys can drag it to reach small lakes with poor access.
"Deployment happens quickly, versus the conventional method of putting on a survival suit and walking across unsafe ice while pulling a rubber raft," says Roering.
By retracting the front wheels, the bow lays on the ice, allowing victims to be loaded easier. It's been demonstrated in real-life rescue situations. "One of our ice-fishing customers pulled in a 300 lb. man with his standard Wilcraft and a rope," says Roering.
Even with the knowledge that the Wilcraft floats, there are few sounds more unnerving than when lake ice snaps while underfoot. Both Locke and Roering have driven Wilcraft vehicles directly from the ice to open water — carefully at first. "The first time you go in, it is really frightening," says Roering. "I have been through it so many times now that it feels like launching a boat."
Cold-weather friend
Cold weather startability begins with the engineer.
In January, Tom Roering returned home to the Twin Cities after a Wilcraft demonstration in Bismark, ND. It was one of coldest nights of the season.
Early the next morning, with the Wilcraft still sitting on the trailer in his driveway and the thermometer at -27 F, "I started it up to see what would happen," says the creator of the amphibious ice fishing and hunting vehicle. "It started right up, and after a few minutes with the choke on, it was off and running."
Before moving into production with the Wilcraft, Roering's group carefully selected an engine that would start dependably in very cold ambient temperatures. The Briggs & Stratton Intek line fit the bill.
For Briggs & Stratton, such cold-weather performance is no accident. "We spend a lot of time working on engine startability in both cold and hot temperatures," says Marv Klowak, vice president of R&D and quality, Briggs & Stratton Corp., Milwaukee, WI. "When we do consumer research, easy-starting shows up as one of the primary attributes they want from their engines."
Qualification tests for new engines include running it in the field as well as time spent in cold chambers in Milwaukee, and audit tests are performed on cold-weather engines as they are assembled.
Some of the negative effects extreme cold can have on an engine shows up when it requires an excessive number of pulls to start, or is very hard to pull over. Klowak is a strong proponent of synthetic oils for cold weather applications, but also says there are things that can be done at the design level to improve its performance out on the ice, or when combatting a snow drift in the driveway.
"We have done things to reduce friction with pistons and rings, for example," he says. Engines must have enough internal clearance to expand in cold temperatures, but not be too excessive when it gets hot. A piston scuff test checks the clearance between piston and the cylinder wall to ensure it's not too tight and there's lubrication during cold starts.
Briggs & Stratton takes cold-weather readiness a step further with its Snow Series, designed for applications such as snow blowers. These engines include a choke and a primer to enrich the air-fuel mixture, as well as shields to keep blowing snow from collecting and freezing around controls and the carburetor.
Briggs & Stratton offers a range of engines and add-ons to meet the requirements of a specific application. A walk-behind lawn mower won't be required to start on a cold northern Michigan winter, but a garden tractor might be used year-round and will need to be ready to start when it's freezing outside.
The company's Engine Application Center is staffed with engineers and technicians whose sole purpose is to make sure the engine gets applied properly in all applications. Services range from temperature and vibration testing to an Engine Installation Review (EIR) and fabrication.
"It's a technical resource for our OEM customers," says Klowak, "where we get involved with helping to select the right engine from an application standpoint. We see every application as a marriage, between the engine and the machine. Both sides need to work together."