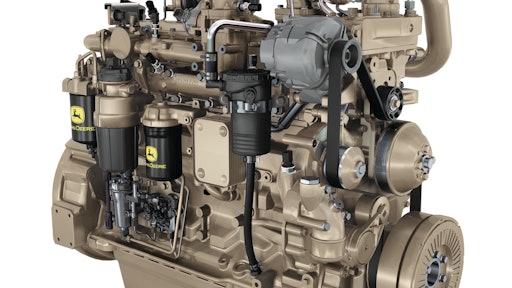 To meet upcoming Tier 4 Interim/Stage III B diesel emissions regulations, John Deere Power Systems (JDPS) will use cooled exhaust gas recirculation (EGR) and an exhaust filter rather than selective catalytic reduction (SCR) in its engines.
For CMI Mulching's Yves St. Onge, that is good news that can be summed up with two words: single fluid. "Our customers will not have to carry additional fluids to the remote areas where they are working. That is very important to us."
The single-fluid approach of cooled EGR means owners and operators won't have to incur the cost of diesel fuel plus the additional cost for diesel exhaust fluid (DEF) required by SCR systems. "For Interim Tier 4/Stage III B, we're not only looking at fuel economy, we're taking into consideration total fluid consumption," says Brian Brown, manager of worldwide marketing support for JDPS.
Engineered and manufactured in St. Cyrille, QC, Canada, CMI's self-propelled mulcher offering starts with the 125 hp C125 and goes up to the 600 hp C600 – known as "The Bull." CMI's machines clear right-of-ways and fire lanes and the hydraulically operated head can work below grade to mix the woody debris into the dirt.
"What differentiates our machines from typical construction equipment is the load factor," says St. Onge. "Our machines have higher loads than an excavator, for example. In a large landscaping operation, the engine in a mulcher will be under load for a long period of time, especially when it's working in the ground mixing chipped wood with dirt."
Another difference that can pose a challenge when CMI engineers are spec'ing engines and components is the mulcher head. It generates enough hydraulic heat to require its own cooling system. "Because the Tier 4 Interim's cooling requirements are greater, there is less room for the hydraulic heat exchanger." There is little room for adding new components, especially when it might impact visibility. CMI's engineers made the machine's frame larger.
CMI buys its Deere engines through a distributor in Quebec, and relies on them as well as JDPS for engine expertise. "We like buying engines from Deere because they are also building off-road machines and use their own engines. They know the engines and how they fit, and they share a lot of engineering information with us."
Much has been written about higher underhood temperatures as a result of emissions regulations. While St. Onge acknowledges they must take hot components such as the DPF into account with all of the flammable airborne material the machines are working in, "the machines already have very hot components, such as the turbo. We're not seeing hotter surfaces, just more of them," he says. "If the operator is already cleaning the turbo and exhaust manifold, he'll now just have to clean DPF, too."
For St. Onge, the fact that CMI's customers won't have to worry about cold temperatures effecting the operation of their machine is another advantage to Deere's approach. "A large part of our market is in the oil field industry in northern Canada, where freezing is a big issue," he says. "Keeping DEF warm adds cost and complexity, and it's a change that will not only be required to our machines, but to the fuel and fluid supply equipment, as well. We will reach that point in 2014, when SCR systems will probably be required industry-wide. But for the short term, we will hold off."
Although it's working in different applications from CMI's mulchers, "Deere has yellow equipment out there using Tier 4 Interim engines," says St. Onge. "Every OEM will know what the impact of Tier 4 Interim technology is within a year."
First on the job site
In late August, John Deere delivered the construction industry's first Tier 4 Interim-certified machine with an engine over 175 hp to New Jersey contracting firm J.H. Reid. The company immediately put its new 304-hp 744K four-wheel-drive wheel loader to work on a bridge job for the New Jersey DOT.
The firm wanted a wheel loader that would allow it to work in Brooklyn, NY, under current and future emissions rules, such New York City's "Best Available Technology" (BAT) emissions control rules. "Everybody knows Tier 4 Interim is the future," says Eric Reid, president of J.H. Reid. "For us, it's all about the ability to work in New York City, and I didn't want to invest in something that would be obsolete in six months."
Certified engines
The John Deere PowerTech 9.0-L IT4 diesel engine used in the 744K was certified by the Environmental Protection Agency (EPA) in March, 2010.
In September, JDPS announced that it's PowerTech PVX 6.8L above 174 hp and its PowerTech PSX 6.8L engine have also been certified by the EPA and European Union (EU) for Tier 4 Interim and Stage III B regulations. They begin Jan. 1, 2011, for 174 hp (130 kW) and above engines.
John Deere met the regulations by starting with its PowerTech Plus Tier 3/Stage IIIA engine platform — which includes cooled EGR for NOx control and an exhaust filter for reducing PM. The engines feature full-authority electronic controls, a four-valve cylinder head, a high-pressure fuel system, single variable geometry or series turbocharging and an air-to-air aftercooling system.
"The Interim Tier 4/Stage III B certification of our 6.8L models confirms our validation processes. Our field and lab testing continues to ensure the final product will meet the unique requirements expected from off-highway diesel engines," says Doug Laudick, product planning manager for JDPS. "We have received positive feedback from customers testing our Interim Tier 4/Stage III B powered machines in the field. And, we remain committed to ensuring our engines withstand the extreme vibration, temperatures and duty cycles found in those applications."
Engine manager
At most OEMs, the role of the marketing manager is to help sell the end product, such as a log skidder or wheel loader. But the work surrounding meeting emissions regulations (particularly California's in-use rules) was such that three years ago, the John Deere Construction and Forestry Div. needed someone dedicated to addressing engine concerns.
Joe Mastanduno was working with Isuzu's General Motors Duramax engine program and was ready for a change. He moved to Moline, IL, to be the division's engine/drivetrain product marketing manager. "Before my position was created, the construction division relied on JDPS," says Mastanduno, "but the sensitivity to engine changes in the construction industry got so high that they wanted to have one person based in the machine-production branch."
Mastanduno's role is to provide market input to the product development teams, helping ensure the engine emissions control strategies are the same across all of Deere's product lines. He also interfaces with JDPS and spends time customers and dealers. In-person meetings and webinars provide information about the new equipment and how machines will be affected by the new emissions equipment.
Overall, emissions regulations have changed the business of selling machines. "We used to be pushing metal, selling the feature and benefits of a machine," says Mastanduno. "But now we are an emissions solution provider, it's no longer just about metal; it is solutions and data, as well."
As witnessed by the new 744K delivered in August, Deere has elected to roll out its new technology to construction equipment buyers. For Deere, construction equipment has been the most sensitive in terms of meeting regulations and communicating with customers. "When we look at all the segments that Deere & Company ships equipment into -- construction, forestry, agriculture, turf and mining -- the yellow equipment is the most sensitive to Tier 4 changes, particularly due to in-use rules."
Mastanduno hasn't seen the same emissions sensitivity in the forestry segment. "The forestry segment doesn't have in-use rules or attainment zones, so regulators don't bother them as much," says Mastanduno. "There are fewer machines working in the forest compared to a road-building site, so there is no critical mass."
With time and money limited everywhere; Deere plans to stagger Tier 4 Interim roll-outs, placing forestry equipment near the end. When it arrives, the same engine and aftertreatment technology that is used in construction and agriculture will be used in Deere's forestry equipment.
On-highway emissions regulations will continue to help pave the way for the off-highway industry. In visiting customers, "one thing I have found is that most of our customers have on-highway machine and have experience with particulate filters and SCR systems," says Mastanduno. "We have a starting point since on-highway vehicles are four years ahead of us, so we won't have the steep learning curve they had in 2007 and '10. There is still a lot to learn leading up to Tier 4 Final, but we have a good start."