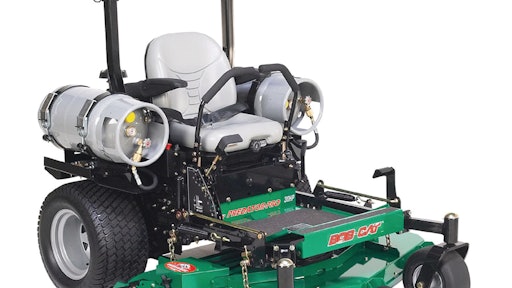 The lawn and landscape industry is no stranger to environmental green initiatives. States such as Texas have locally regulated "Ozone Days" where, dependent on the Air Quality Index (AQI) level that day, gasoline powered equipment is not allowed to be used. Two popular power system solutions that reducing emissions of lawn equipment are electric- and propane-power.
It's electric!
As power storage systems develop and are able to hold more power for longer periods of time, electric drive vehicles will become a more viable option for environmentally friendly lawn care. Components and fuels such as oil, gas, engines, transmissions, radiators, belts and pulleys are eliminated, making it a virtually maintenance-, noise-, and emissions-free.
Supporting the electric movement are companies like Global Industrial Products' latest business division launch, EVergreen Drive Systems, Morton Grove, IL. The division was launched in direct response to the increased need for clean energy integrated drive systems and demand of on-site engineering support, says the company. EVergreen's staff has worked with applications from markets including fork lift trucks, material handling equipment, utility vehicles, light on-road vehicles, ground support equipment and other applications requiring motors and control solutions for electric mobility equipment.
"We are working on developing projects with heavy machinery, un-manned guidance vehicles, and have the ability to offer complete package solutions," says Stephania Holland, general manager and vice president of sales for EVergreen. "Advanced motor and controller technology continues to transform our capabilities. EVergreen is here to service OEMs and product developers who need the assistance."
Electric Tractor Corp. (ETC), incorporated in Wyoming as a private company, operates in Burlington, Ontario, Canada. ETC manufactures electric-powered, off-road, work vehicles that answer the call for an eco- and user-friendly line suitable for both indoor and outdoor environments. The company has gone through a major re-organization in the past two years and is looking forward to supplying the market with a non-polluting, powerful utility tractor once again.
The company's tractors are designed entirely around its electric drive system. This bottom up approach led to software-controlled, individual drive wheel motors that produce a high torque, high traction tractor with high performance outputs in pulling, towing, mowing and throwing applications, particularly at low speeds. The tractors presently use standard, available lead acid batteries to supply the electrical energy.
The motors are controlled by an on-board computer with programmable software that allows the modular tractor and its components to be upgraded as new technology and software developments become available.The present OX Series of tractors features three versions: the OX – SP (single-purpose) for indoor towing applications; the OX – MP (multi-purpose) featuring a patented Quick-Attach system to allow fast—less than one minute—attachment changes for pushing, mowing, towing and snow throwing; and the OX – DP (dual purpose) for moving disabled vehicles such as heavy pickup trucks around service center lots.
Depending on the moisture content of the grass and the slope of the land, the Electric OX - MP can operate for 3 to 6 hours before requiring a charge. Wet grass and hilly terrain put added loads on the electric motors and the batteries, reducing the run time. Operation times in a towing application have been reported to be as high as 9 hours, according to the company. Since the motors are not operating when the vehicle is stopped (no draw on the batteries), the operating time is usually much higher than anticipated.
According to the company, the second generation tractors will be upgraded with a new look and additional features and options as suggested by its global base of users with a wide range of applications in North America, Europe, Australia and Asia.
Excel Industries, Hesston, KS, better known by its brand Hustler Turf Equipment, introduced its first all-electric, zero-turn riding mower—the Hustler Zeon—in late 2008. Hydro-Gear, Sullivan, IL, supplied the entire electric system through its Smartec brand to allow Hustler to rely on a single solution provider instead of having to shop around to multiple component suppliers and integrate them into a single working system.
The Zeon has the same power, provided by a 48-volt computer-controlled battery system, as its gas-powered equals, and since it is a software-driven machine, it can be customized to various performance characteristics. The mower allows up to 80 minutes of mowing time, features zero-emissions, a 34% noise reduction compared to gas-powered mowers, and dual electric transmissions for zero-degree turning maneuverability.
Hustler Turf's own comparison between its Gas ZT Tractor and its Electric ZT tractor shows a cost savings (including annual gas and maintenance estimations) of over 50% in 10 years.
In July of 2010, Excel Industries donated one of its Hustler Zeon mowers to the Greensburg, Kansas-based organization Green Town. The organization is working to rebuild Greensburg after the devastating May 2007 tornado. The town has chosen to move forward as a model for sustainable building and green living.
Pro propane
Electric mowers definitely have a place in the lawn care industry, however until battery technology advances, they are more beneficial to smaller domestic applications. Some battery systems can take up to 16 hours to recharge after a single use.
For larger, more commercial applications, while still reaping many of the benefits of electric-powered mowers, propane is gaining in popularity as a power source. According to OEM Off-Highway's sister publication Green Industry Pro, twelve manufacturers are currently offering propane-powered mowers. Mowers fueled by propane versus gasoline reduce 48% more greenhouse gas emissions and can reduce carbon monoxide emissions by over 80%. Nontoxic propane also eliminates the risk of spilling while refueling.
In a GreenIndustryPros.com online exclusive article, "Dealer and His Contractors Find Success in Propane Mowers" by Associate Editor Lisa Danes, James Harrison of Bitter Blue Lawn & Garden of Pembroke Pines, FL, says he has been working with EnviroGard for around four years offering propane-powered mowers. While there aren't many propane-powered mowers on the market, making them a pricier option to gas-powered mowers, Harrison highlights the product's durability and the money it can save customers in the long run.
"It will cut fuel costs up to 40% due to reduced theft, spillage and evaporation, and increased fuel efficiency," says Harrison. "There is so much more you can do with propane, it's just hard to convince people to change. They feel unsafe having big propane tanks sitting next to them while they are on the mower. These are Dept. of Transportation tanks and are truly safer than gasoline.
"Maintenance with these mowers is cut in half," he continues. "Propane is clean, so your engine will last three or four times longer. Many of the people who use gasoline-powered mowers will replace their engines after 3,000 hours because the mower is still good. With propane, your mower will die before your engine does."