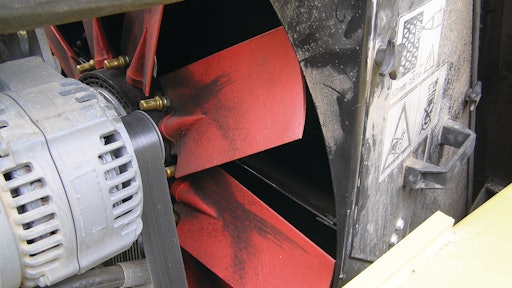 Modern machines in the agriculture, construction and waste management equipment industries, among others, have become hot items. No, they aren't flying off the shelves; they're literally burning up. Higher horsepower demands in smaller packages causes engine systems to run hotter than ever, and the extra cooling needed to keep the equipment running in peak performance has to evolve with those demands.
According to Cleanfix, a subsidiary of German-based agriculture equipment specialist Hägele GmbH, most heavy-duty off highway machines are equipped with up to six radiators with extremely high fan performance demands causing the fans to turn into vacuums for dust and debris, clogging screens and radiators faster than ever.
A clogged radiator can result in overheating of the engine, transmission and hydraulic systems, as well as higher pressure differential between the suction and blowing sides of the fan. High pressure differential, if left unresolved, can reach maximum static pressure, cause airflow at the fan blade to tear off, which will cause every system to overheat.
A good radiator fan system is essential to optimizing equipment efficiency, keeping maintenance downtime low, and keeping fuel efficiency high.
Electronic control
Cleanfix's Pulstronic fan system combats the common problems associated with cooling fans with an active control unit which constantly compares the signals of the fan itself with the ECU data. Many of today's equipment use viscous-fan type clutches or electronically regulated fan drive motors whose RPM is determined by temperature inputs. Higher temperatures necessitate a higher fan speed which draws power from the engine, negatively effecting fuel efficiency.
"Cleanfix's Pulstronic fan is able to be fully controlled by the ECU," says Ben Haegele, CEO of Cleanfix North America. "That is a big difference from other adjustable fans on the market, especially for fuel efficiency in Tier 4 engines."
In an example provided by Cleanfix, a marginal increase in fan speed of 600 rpm due to a clogged radiator leads to a doubling of necessary fan drive power. If the fan drive power rises from 9.5 to 19 kW, the resulting fuel consumption increases to about 0.92 gallons per hour (3.5 liters per hour).
Blade tip and orientation
Unlike side-by-sides, stacked cooler systems are subject to high pressure drop which can cause turbulences at fan blade tips. On agriculture and construction machines, the fan drive is commonly mounted onto the engine with the coolers attached to the chassis. The separate mountings lead to relative movements between the cooler and the fan, so design must address a larger blade tip clearance which results in a higher airflow loss.
Cleanfix utilizes flex tips to eliminate clearance needs. During rotation of the fan, the flex tip is partially grounded to the shroud of the radiator which eliminates recirculation and turbulence. Values of 8 to 15% increased total airflow are noted by Cleanfix, while power consumption stays relatively the same.
Standard fans have aerodynamic profiled blades. If a hydraulically driven fan with fixed blades needs to operate in reverse, the back side of the blade must be used because the blade profile cannot provide enough pressure to blow out the radiator.
Cleanfix's Reversible Fan blades rotate on individual axis to optimize cooling and cleaning. Internal springs ensure the blades return to standard cooling position.
"As soon as the engine sends a signal to the electronic fan, we can adjust the blade pitch (10 degrees and back 35 degrees) within seconds," says Haegele
The design of the Pulstronic fan was through direct requests from Cleanfix's OEM customers and the market itself, and the benefits from an efficient fan go beyond fuel consumption reductions. "In many cases we are able to reduce fan speed and pitch so we can reduce noise and power consumption," explains Haegele. "We made several installations with OEMs and suggested they lower their fan drive speed, which is also helpful to reduce noise and power consumption."
The cooling system has elevated its importance since the introduction of the Tier regulations. As engines continue to evolve and emissions and efficiency demands continue to pile up, each system needs to find a way to pitch in to carry the burden of the equipment productivity and optimizing. Fan systems are one very essential part to that equation.
Companies in this article