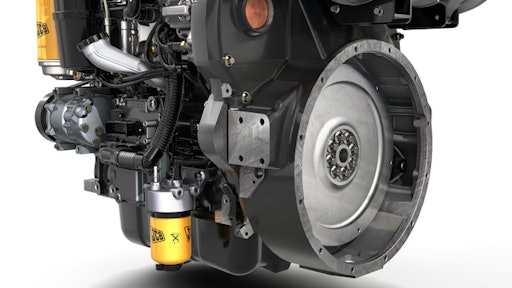 Manfredi & Associates, Mundelein, IL, recently conducted an in-depth, 117-page study on the impact of emissions regulations on equipment sales and prices, titled Quarantined Markets. While the author, Frank Manfredi, acknowledges that the term "quarantined" sounds alarmist, it was used to bring attention to the changes resulting from EPA emissions regulations.
Manufacturers have spent billions to meet emissions targets, which has driven up the initial price of diesel engines. The higher costs are not for the engines alone, but also for the redesign of the engine compartment to make room for aftertreatment devices and more cooling capacity. Many equipment manufacturers have also taken the opportunity to redesign models from the ground up and upgrade performance features. The net result is that Tier 4 equipped machines are approximately 15 to 20% more expensive to purchase.
In industrialized countries, it has been typical for new equipment buyers to dispose of used units by trading them in when they purchase new ones. For example, Manfredi & Associates estimates that the U.S. has a working population of approximately 3 million units, and that 20 to 30% of those are sold annually as trade-ins or otherwise disposed of — a total of between 600,000 and 900,000 units.
Many of these used machines end up in overseas markets through several channels. There are international brokers who have developed a clientele in other countries and take orders for certain brands of used machines, buy them in the U.S. and then ship them to their clients. Some equipment dealers, especially those located on the East and West Coasts, also engage in brokering machines for overseas customers, either from their trade-in inventory or by actively searching for machines for specific buyers.
In the past 15 years, equipment auctioneers such as Ritchie Bros., Alex Lyons and Yoder & Frye, as well as online auctioneers such as IronPlanet, have attracted many export buyers, especially from Latin America. Of the 600,000 to 900,000 machines that change ownership annually, Manfredi & Associates believes 180,000 to 270,000 are sold annually at auctions.Of those, an average of 10% of all machines sold at all auctions and 15 to 20% of all machines sold at the annual Florida auctions are sold to purchasers from Latin America—in total, 18,000 to 27,000 used machines are sold annually into this region.
ULSD changes the game
Regulations in the U.S. are changing that demographic. In addition to emissions regulations, the federal government mandated that petroleum refineries produce diesel fuel that contains far less sulfur than in the past. New emission-compliant engines are designed to use this ultra-low sulfur diesel (ULSD), since high-sulfur fuel will cause severe problems with the emission devices and may even damage them. ULSD is only available in so-called "regulated" countries and in some urban markets in Latin America.
A significant amount of North American used equipment is sold to overseas customers in lesser regulated countries where ULSD is not readily available and is not likely to be available in the foreseeable future. This could increase the supply of used equipment in the U.S., adversely affecting equipment prices.
The U.S. equipment market requires a reliable outlet for used machines taken in on trade for new units. Exports provide the U.S. market with an outlet to make way for new equipment purchases. Without it, the system will become clogged with used units. This could result in declining residual values, which will impact overall equipment life-cycle costs. It will have the greatest impact on residual values used to establish machine rental rates, equipment finance payments, bonding capacity for contractors, collateral for equipment loans and for bonds that are collateralized with machines.
Removing emissions equipment through de-tiering kits is an option for lesser regulated markets. (It is illegal to do so for units that will be operated in the U.S.) Using lower grades of fuel in Tier 4 engines is made possible by replacing injectors, lowering the injector pressure and readjusting the engine's computer. When engines are modified in this manner, the horsepower is reduced so the machine may not have the same performance characteristics as the original machine.
Undoubtedly, specialists will emerge who will remove the emissions devices for a fee when they are sold into less-developed countries. This will result in an added expense to machines already significantly more costly than those without emission devices.
Export markets impact residual values
Manfredi & Associates believes EPA emissions regulations will ultimately reduce the quantity of used machines exported to less regulated countries. It estimates this will result in a 15 to 20% increase in the supply of used equipment in the North American marketplace. It also concludes that the surplus will result in a 15 to 20% decline in prices for used units with emissions-compliant engines.
There are some who claim U.S. emissions devices can be disabled by a simple change to the engine computer and by removing the SCR and diesel particulate filter, making them salable in Latin America. According to Manfredi & Associates, this would not fully address the challenge, since the initial purchase price of North American units equipped with Tier 4 technology is considerably higher than used Tier 2 machines, or new Tier 2 and Tier 3 machines being sold into Latin America by Chinese manufacturers. The only way to compete will be to reduce the used selling prices. Lower prices will result in lower residual values.
Manfredi & Associates contends EPA emissions regulations will disrupt the traditional flow of used U.S. machines into markets where Tier 3 equipment is acceptable. The interrupted flow will lower used equipment prices and thus increase the cost of ownership to North American users by 15 to 20%.
Adjusting customers to the new pricing structure
Given the higher equipment purchase price and questions regarding residual values, emissions regulations are creating distortions in the marketplace as users learn to cope with the changes. It is a learning environment for all parties involved. For example, used equipment buyers must be much better informed about the emissions devices on the various brands and models they are considering. This is especially true for buyers who purchase machines at auction.
Some equipment owners are rebuilding the engines of older machines. Contractors that own large fleets, as well as other large fleet owners such as equipment rental companies, are purchasing low-hour used machines not currently equipped with emission devices and rebuilding the engines when necessary.
North American equipment owners will ultimately begin cost-shifting to offset rising expenses. An equipment survey by Manfredi & Associates shows equipment owners must mitigate the higher initial price of Tier 4 machines and higher cost of fuel and maintenance. More than half of the respondents indicated that new machines must be 20% or more productive to offset the higher prices. Some said they will shift the risk of lower residual values to others by leasing and renting more and by hiring more specialty subcontractors to do work their companies normally had self performed. Equipment rental companies indicated they will increase their rental rates to offset the higher costs.
Tier 4 regulations may impact new sales, as well. Equipment users told Manfredi & Associates they will extend the life of their existing Tier 3 machines by rebuilding them for as long as possible. In addition, they will search for "good" used Tier 3 machines and add them to their fleet. They will also seek out remanufactured Tier 3 units
A large percentage of survey respondents told Manfredi & Associates they plan to avoid purchasing Tier 4 Interim (T4i) machines and wait for the Tier 4 Final (T4F) versions to arrive on the market. Overall, it appears the strategies employed by equipment users to mitigate the impact of Tier 4 regulations will result in 2013 and 2014 new machine sales that are below trend.
EPA horsepower break points in the emission regulations could have a profound effect on equipment sales. Gasoline-powered machines may become more popular, especially in under 50-hp applications and in certain markets such as the small contractor and the independent rental company market.
Also expect equipment manufacturers to sell more machines in the less than 75-hp category, where emissions regulations are not as onerous. Manfredi & Associates is already seeing some manufacturer de-rate engines on existing models to fit in the under 75-hp category. Several engine manufacturers have also succeeded in developing engines that require no diesel particulate filters.
To acquire a copy of Quarantined Markets, which also includes analysis of the truck market, contact Jenni Ehlke-Heyer at Jenni.Ehlke-Heyer@cygnus.com
Manufacturers Ease Export Sales of Tier 4 Equipment
Major manufacturers are introducing de-tiering kits that allow Tier 4 machines, when necessary, to be retrofitted for use in countries that do not have access to ultra-low sulfur diesel (ULSD) fuel.
JCB was among the first to unveil a low-cost kit to recalibrate its Tier 4 Interim engines (read more, 10946222). The kit recalibrates the electronic control unit (ECU) so the engine can be operated in countries using higher sulfur content fuel. The engine will then be fitted with a non-compliant label. Since the equipment can be easily converted for use in less regulated markets, it is likely the machines will retain more residual value.
Caterpillar Unveils Strategy
Caterpillar Inc. recently announced its strategy to allow Tier 4 Interim products to be operated in lesser regulated countries (read more, 11233621). Based on extensive testing, analysis and field validation, Caterpillar has determined that its Tier 4 Interim engine systems between 174 and 1,200 hp (130 and 895 kW) and 7 to 32L will not require any modification to operate in lesser regulated countries. For Tier 4 Interim engines less than 174 hp (130 kW), Caterpillar will offer authorized modification processes that remove aftertreatment from the machine and commercial engine configurations. Modification processes, which include decertification, will be made available exclusively through the local Cat dealers beginning in 2014.
Caterpillar anticipates both the modified and unmodified engine systems will meet used equipment customer expectations. "Tier 4 used equipment migration is a complex issue," says Ramin Younessi, vice president, Industrial Power Systems Division. "Because Caterpillar serves customers in all markets, we develop products to meet the needs of customers in all types of regulatory environments. For example, all non-road equipment operated in the U.S., Canada, Europe and Japan must operate on ULSD.
"When equipment developed for certain markets, like our Tier 4 equipment, moves to different markets, it adds challenges for Caterpillar, our dealers and our customers," he continues. "Challenges arise due to diverse emissions regulations, the need for dealer readiness training and the need to help customers understand how to operate and maintain these next generation products. Most importantly, customers contemplating the purchase or modification of used Cat Tier 4 products need to understand and comply with their local regulatory requirements."
Since Caterpillar began introducing Tier 4 products in February 2011, the field population has grown to over 82,000 products operating in North America, Europe, Japan and Australia. These products have amassed almost 42 million operating hours, with optimal reliability and fuel efficiency results — creating interest among used equipment purchasers. According to Younessi, a key consideration for Caterpillar in developing its strategy for Tier 4 migration was to help ensure customers maintain the resale value of their used equipment. This gives them options to sell in new markets, including less regulated countries.
He adds, "With the migration strategy, we're looking forward, ahead of the Tier 4 Interim products that are already finding their way overseas to lesser regulated countries. Tier 4 Final products won't be far behind the Interim products, which is why the strategy we've developed focuses on a solution for today's customers — and for future customers."
Volvo Offers Conversion Kit
From the second quarter of 2014, Volvo Construction Equipment customers will be able to convert Tier 4 Interim and Stage IIIb (the European equivalent of Tier 4i) machines so that they can work in countries where ULSD is not available (read more, 10960774).
Volvo will offer an engine conversion kit that owners can use to make their machines ready to move out of the U.S. and the European Union. The kit protects the Volvo engines against damage by high sulfur levels, while still meeting Volvo internal design standards.
"We know that some of our customers export their used machines to countries outside of the U.S. or EU and must operate on a different type of fuel. We want to assure customers that there will still be a market for Tier 4i/Stage IIIb-compliant machines abroad," says Alan Berger, Volvo vice president of product platforms.
Without the kit, Volvo's Tier 4i/Stage IIIb engines would not operate correctly when used with high-sulfur fuels. The conversion kit allows the machines to be reliable after export.
John Deere to Offer Kit in 2015
Likewise John Deere Forestry and Construction is bringing to market a retrofit kit that will enable John Deere Interim Tier 4 (IT4) machines to be sold in countries where ultra-low sulfur diesel (ULSD) fuel is not available.
"We anticipate many of our customers will operate used IT4 equipment in regions where high-sulfur fuel is still used," said Andrew Kahler, product marketing manager, engine and driveline, John Deere Construction & Forestry. "The kit, which will enable these engines to use higher sulfur diesel fuel, is designed to meet strict John Deere standards and reinforces John Deere's commitment to serving our customers' equipment needs domestically and abroad."
The conversion kit will be available in 2015. New John Deere equipment for export to non-ULSD countries will continue to offer lower tiered engines that meet regional emissions standards and will reliably operate with the local available fuel.
Cummins Offering Sulfur Tolerance Kits
Cummins Inc. announced it too will offer a Sulfur Tolerance Kit, allowing export of used Tier 4 Interim and Tier 4 Final equipment into regions where ULSD is not available (read more, 11289610). The kit allows an engine to be operated on fuels containing far more sulfur than ULSD enabling a second life for the engine outside of North America and Europe.

The Cummins Sulfur Tolerance Kit is intended to provide options to operators and dealers who may ultimately sell Tier 4 powered equipment in the used market, offering flexibility in the regions into which they deliver the equipment.
The Sulfur Tolerance Kit protects the engine and exhaust aftertreatment from the harmful effects of high-sulfur fuel. Tier 4 Interim and Tier 4 Final engines require the use of ULSD to reduce particulate matter, soot and sulfur dioxide in order to meet emissions regulations in North America and Europe. ULSD is not widely available outside of those regions.
The Sulfur Tolerance Kit includes new engine calibrations and hardware. The kit is intended for used engines that are exported into non-regulated regions.