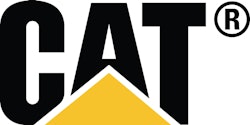 The Cat 826 Landfill Compactor has set the design standard for this demanding application since 1978, and with the introduction of the K Series model, that design is further advanced in terms of operator comfort and safety, ease of operation, durability, reliability, low-cost operation and productivity. Two Cat C15 ACERT engine options are available, meeting U.S. EPA Tier 4 Final/EU Stage IV emission standards or U.S. EPA Tier 3/EU Stage IIIA equivalent emission standards. It delivers 405 net hp (302 kW) to the 826K's drivetrain, which uses a 2F/2R planetary power-shift transmission, lock-up torque converter, and heavy-duty planetary axles that can accommodate three new wheel-and-tip configurations. With an operating weight of 90,207 lbs. (40,917 kg), coupled with massive structures that remain solid through a number of rebuilds, the 826K is built for rugged durability.
For fuel-saving performance, the 826K features an Eco Mode, which, when selected by the operator, limits engine speed and allows the machine to function in an auto-shift mode when maximum torque is not required. For operator convenience, the left pedal serves as a brake, transmission neutralizer and engine decelerator which the operator can use to temporarily override the engine speed set with the throttle lock for safely maneuvering around obstacles. And for optimum responsiveness and control, the 826K's STIC system allows single-lever steering and transmission control.
Operator comfort and convenience is further accommodated in the design of the 826K with easier entrance and exit from the cab with lighted, shallow-angle stairways and a STIC armrest that folds away. The Cat Comfort Series air-suspension seat features extra thick cushions and moves the attached electro-hydraulic STIC-control pod and implement-control pod when adjusted. The cab, isolation-mounted to the frame, is pressurized with filtered air, and the selected temperature is maintained automatically. The control panel uses large, back-lit switches with LED indicators, and a simple two-position rocker switch controls the parking brake.
Drivetrain/structures/guarding
The 826K delivers consistent, smooth shifting via integrated electronic controls that use the Caterpillar Single Clutch Speed Shifting system. The metallurgy and heat-treating incorporated into the transmission's gearing ensure consistent performance and long-term durability. The lock-up torque converter used in the 826K has several benefits, including more efficient transmission of power, lower system heat, increased travel speed and fuel efficiency. Further fuel savings are achieved with the C15's Engine Idle Shutdown system, and engine durability is enhanced with delayed engine shutdown.
Because the landfill compactor works in the harshest of applications, Caterpillar has designed the machine with purpose-built structures that deliver long-term durability. The full-box-section rear frame resists twisting forces and shock, the steering-cylinder mounts are designed to effectively dissipate steering loads into the frame, and the axle mounts are heavy-duty components that contribute to the overall structural integrity of the machine.
Specialized guarding protects the 826K's systems and components from job-site hazards, such as debris build-up, chemicals, and wire and plastics that might wrap around wheel assemblies.
Hydraulically actuated engine and powertrain guards shield components and resist debris build up; front-frame guards further prevent trash build-up in the frames and add protection for hydraulic lines; axle-wrapping and seal guards reduce the prospect of material binding around the axles; a fine-mesh air-inlet screen prevents material from entering the engine compartment; an under-hood ventilation system resists trash intrusion and cools components; and striker bars and cleaner fingers help keep the wheels clean for optimum compaction effort.
Wheels and tips
The 826K is available with three new wheel-and-tip configurations to improve machine performance and to meet individual landfill applications. The Paddle Tip configuration is designed for greater traction with less weight, providing high performance coupled with reduced fuel burn. The Plus Tip is a conventional design that increases side-slope stability, and the Combination Tip provides a practical compromise of important elements—performance, fuel economy and side-slope stability.
Serviceability/Technology
To promote the safety of personnel servicing the 826, routine maintenance points are grouped and accessible from ground level or from non-skid walkways with hand rails. Swing-out doors on both sides of the engine compartment provide easy access to daily service checks, and ecology drains simplify service and help prevent spills. An available swing-out stairway facilitates access to the engine. In addition, swing-out coolers for fuel and hydraulic fluid simplify cleaning, and a ground-level power service center has an electrical-disconnect, emergency-engine-shutdown and stairway-light switches.
To further complement serviceability, the Cat Vital Information System (VIMS 3G) integrated into the 826's design keeps operators informed about machine operating conditions via an easy-to-view graphic display that features touchscreen interface. To expand machine-monitoring capability, the Cat Product Link system provides event and diagnostic codes, as well as data such as operating hours, fuel level and idle time. This information is transmitted to a secure web-based application, VisionLink, which provides powerful tools for conveying information to machine owners and dealers, including working time versus idle time and mapping functions.