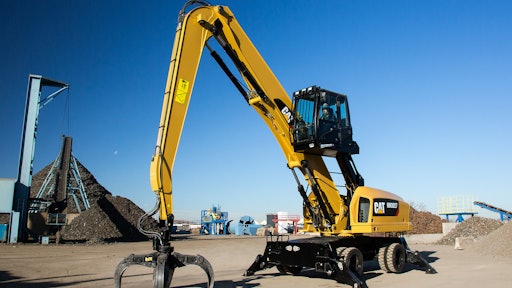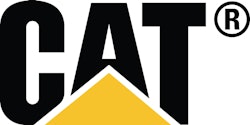 The new Cat MH3027 is the fourth and smallest in the series of new wheeled material handlers that Caterpillar is introducing to global markets in the greater than 25-metric-ton size class. At 28,500 kg (62,832 lbs.), the MH3027 delivers superior performance in a smaller package—specifically a swing radius that is 213 mm (8.3 inches) less than the Cat MH3037.
The new Cat material handlers are purpose-built from the ground up to work productively and reliably in solid waste and scrap recycling. The MH3027 is available in configurations for waste handling, featuring a straight stick, and for scrap handling featuring a drop nose stick. A debris-resistant cooling package with a hydraulic, variable speed, auto reversing fan and plug-resistant coolers equips the machine for challenging conditions.
The MH3027 also provides superior protection and convenience for the operator. The Cat cab avoidance system, using sensors on the front linkage, is standard equipment and helps ensure that the work tool will not contact the cab. New with the MH3027 model, customers can select from two hydraulic cab riser options. Customers can choose the cab-to-platform configuration or customers can choose the patented "ground level entry and exit" with a step-in cab that lowers to the front or the side of the machine to enhance convenience and safety for operators and service personnel. The hydraulic cab riser takes the operator to 18 ft. for optimal jobsite visibility. Additionally, the cab features joystick steering control, which eliminates the steering wheel and opens the front view for the operator. A standard rearview camera also expands sight lines with optional side view camera.
The MH3027 is powered by a Cat C7.1 ACERT engine that meets US EPA Tier 4 Final/EU Stage IV emissions standards. Operation of the emissions control system is completely transparent to the operator—with no downtime for particulate filter regeneration. The engine features an electronically controlled, mechanically actuated, unit-injector fuel system that uses multiple-injection fuel delivery for optimum power and economy in all operating situations. The MH3027 configuration is rated at 129 kW (173 hp).
The intelligent, load-sensing hydraulic system delivers power when needed and reduces fuel burn. High strength structural steel and advanced welding techniques ensure structural integrity. And enhanced serviceability features, such as auto lube for the upper area of the machine and centralized manual lube for the lower, simplify maintenance.
Hydraulics and drivetrain
Using a closed-center, one-pump, load-sensing implement hydraulic system with electro-hydraulic pilot control, the hydraulic pump generates only as much oil flow and pressure as required for the application, yielding powerful, rapid response and fuel-saving efficiency. To further enhance overall hydraulic power and efficiency, the machine regenerates boom-down oil flow, reducing the volume of oil the pump must produce.
True four wheel mechanical drive provides excellent maneuvering performance even on unimproved terrain. A variable displacement hydraulic motor coupled with a two-speed transmission provides high- and low-speed travel with creeper speed capability for excellent control due to the infinitely variable travel speed. An oscillating rear axle provides smooth travel over rough terrain. The rear axle is equipped with an oscillation lock that provides greater stability during light-duty material handling without stabilizers deployed.
Serviceability and work tools
Durable fiberglass gull-wing panels supported by gas-filled cylinders provide ready access to the routine maintenance points in spacious, lighted compartments. Service panels are located on the top, left and right side of the machine. Handrails and anti-slip surfaces help technicians perform their work safely and efficiently.
To assist customers in improving jobsite efficiency and managing the MH3027 for optimum return on investment, Cat Connect offers LINK and DETECT technologies. Product Link helps fleet owners track locations, hours, fuel consumption, idle time, events and diagnostic codes by wirelessly reporting all via the online VisionLink user interface to help lower owning and operating costs.
The MH3027 can handle a variety of work tools. The machine features medium-pressure flow from a separate valve for tool rotation and a high-pressure circuit from the main pump to operate the open/close functions of typical tools, such as orange-peel grapples, clamshells and log grapples.
A separate pump is used to provide hydraulic power to operate a generator for an optional scrap magnet. The generator features a patented Cat solid-state magnet controller that has a sorting feature to aid the operator.