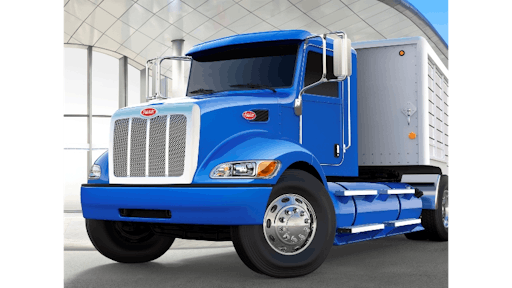 Use of compressed natural gas (CNG) continues to grow within the heavy-duty vehicle market, particularly for the on-highway segment. In the past several months alone several new CNG products have been released, including vehicles from OEMs such as Peterbilt, Renault Trucks and McNeilus (see sidebar, pg. xx).
New companies have also begun to enter the market upon seeing the continued potential of natural gas. Rush Enterprises Inc., which owns and operates a large number of commercial vehicle dealerships in the U.S. announced in early 2015 it would partner with 3M to develop CNG cylinders. In May, the culmination of this partnership, Momentum Fuel Technologies, was launched (read more, 12077575). In a press release announcing the newly formed company, CEO and President of Rush Enterprises W.M. Rush said he believes the preference for natural gas vehicles will continue to grow, increasing nearly five-fold in the next five years which is why the company chose to enter this segment of the market.
Improvements in CNG storage technology have been one of the key drivers for this growth. While at one time only liquefied natural gas (LNG) was capable of providing the fuel density necessary in a small enough storage footprint for longer haul applications, CNG has now reached a 200+ diesel gallon equivalent (DGE). "In the past, CNG use was only experienced by short haul or day cab applications. Now we're seeing its use in overnight and longer haul applications because you're able to store more equivalent to what LNG [offers]," says Hernan Henriquez, Director of Sales & Marketing at Quantum Fuel Systems Technologies Worldwide Inc.
Quantum's new Q-CabLITE GEN II back-of-cab mounted CNG fuel module, for example, provides a 123 DGE (product information, 12052601). When combined with two of the company's 25 x 90 inch Q-RailLITE systems the module can provide a 216.6 DGE to ensure even longer operation before refueling. Momentum Fuel Technologies says its initial back-of-cab system will provide a 110 DGE for a range of 506 to 633 miles, and plans to introduce a 150 DGE model with a range of 660 to 825 miles in fall 2015.
Lighter, larger capacity designs
How manufacturers go about adding more storage capacity, without adding additional weight can prove challenging. Simply creating a larger tank to hold more fuel will not do, as this could cause extra weight to be added to the vehicle which may mitigate fuel economy.
Henriquez says being the designer, developer and manufacturer of its own CNG fuel tanks has enabled Quantum to usethe strength of its tank to develop lighter weight storage systems. For its Q-CabLITE back-of-cab module, Quantum employs a strap-mount method to secure the tank which attaches to a structure mounted to the frame of the vehicle. "We're using the strength and the rigidity of the tanks to build the strength of the structure that then gets installed on the frame of the vehicle, perfectly distributing the entire load onto the vehicle," says Henriquez.
He says employing the use of straps for the integration of tanks in a fuel module is the primary method for reducing weight. Collar mounting, on the other hand, adds an additional 4 inches of collar—generally aluminum or steel—to the front and aft end of the tank which thread into collar blocks installed on a structure in order to attach it to a vehicle. Installing tanks via the extremities or collars requires a heavier structure to support equivalent weight. In comparison to strap mounting which distributes weight directly onto the frames, collar mounting requires a structure outbound of the frames to carry the same load, making it heavier and more costly per DGE.
The material a storage system is composed of has been an area of investigation for many manufacturers to find the right balance between weight and storage capacity. In early 2015, 3B-the fiberglass company (3B) launched its HiPer-tex H2020 roving for the development of lighter weight, more cost-effective gas storage cylinders (read more, 12057028). This glass fiber material is said to be 25% stronger than standard glass and capable of providing a 50% weight savings compared to CNG cylinders made from steel.
At ACT Expo 2015, Worthington Industries Inc. introduced a lightweight, large diameter CNG cylinder featuring an inner aluminum liner for increased storage capacity (product information, 12077672). The company says this new 26.2-inch module is its largest Type III CNG cylinder and the inclusion of the inner aluminum liner dissipates heat during fast-filling to allow for 15 to 25% more fuel storage capacity compared to Type IV cylinders of the same size. In addition, the aluminum liner provides safety benefits including better heat tolerance in the event of a fire and reduced flex or fracture should impact occur.
By partnering with 3M, Momentum Fuel Technologies was able to leverage the use of 3M's nano-particle enhanced matrix resin technology to create storage cylinders which are 25% lighter in weight and 27% more weight/volume efficient.
In addition to weight and storage capacity, serviceability is an important aspect to consider when developing a CNG storage system. Henriquez says this is why Quantum moved access to the filter of its Q-CabLITE module to the side, making it easier now for technicians to reach and replace it. Previously it was underneath the module which required technicians to reach up under the module and remove a few panels before accessing the filter.
Henriquez notes another key advancement with the introduction of its new storage module was providing more accurate fuel measurement. The company has included temperature and pressure compensated measurement in order to provide the most accurate reading from the existing fuel gauge in the vehicle. The more common fuel gauges on the market today only use pressure to get a fuel level reading, he says.
CNG progress slow, but not gone
Despite the recent dip in diesel prices, most industry experts believe the use of CNG will continue to grow. ACT Research Co. reports adoption rates for Class 8 natural-gas powered commercial vehicles in the U.S. will steadily grow to 10% in 2018 and 23% in 2020.
"The industry is as stable as expected despite what cannot be controlled," says Henriquez, such as fuel prices. He explains that customers who have already invested in CNG are continuing their purchasing cycles of CNG products, though possibly at a slower pace than before. However, it's new customers who are holding off on making the switch to CNG at the moment. He says though fuel prices have been used as the reason for this slow down, the price at the pump is not the primary driver for moving to a different fuel source. Factors such as infrastructure, maintenance and training, and customer requirements have much more of an impact. Sustainability is also a key factor, whether driven by the fleet itself or its customers wanting only to use a companies with environment-conscious initiatives. "If their shipper is requiring them to use CNG, [the fleet has] to do so to keep the specific lane," says Henriquez.
Once all those factors are taken into account, however, there is opportunity for fleets to save at the pump, especially if diesel prices rise again as they inevitably will due to fuel prices continuously fluctuating. "We believe now's the time to increase the awareness and uncover nontraditional vehicle applications that can take advantage of CNG," says Henriquez. While there is a "slow down" in the market, fleets should be doing their homework to investigate the economies, infrastructure needs and what is currently available, training their operators and maintenance personnel, as well as what lanes or other business opportunities might exist if they invest in CNG. He says many fleets wait to be told by a shipper to use CNG before switching instead of being proactive and asking these customers what the fleet can do for them. "So down time doesn't really necessarily amount to downtime; now [it's time to] start taking the proactive approach on the competitive nature of the hauling business and revisit CNG as a viable solution for transportation."